Like everyone else, Enid Public Schools administrators were caught off guard as the novel coronavirus made its way to Oklahoma and left a pandemic of unexpected proportions in its wake.
On March 16, 2020 — almost a year ago to the date — the lives of EPS students, staff and their families were changed for good when state Superintendent Joy Hofmeister ordered public schools across Oklahoma to close until at least April 6.
"It's been a long year between the time COVID began affecting us a year ago and now," Superintendent Darrell Floyd said in an email Thursday.
Ten cases were confirmed in the entire state, while nearly 215 people had been tested for COVID-19.
EPS students were on spring break at the time and wouldn't see the inside of a school building for five more months after the next school year began.
A week later, once Hofmeister announced schools would remain closed though the rest of the semester, EPS moved to implement a virtual, distance learning at home — though curriculum was largely changed to review-only.
On April 2, EPS announced the semester's virtual program hub that would begin the following Monday: elementary students would use online menu programs focused on enrichment and practice. Middle-school students would use district-provided Chromebooks and WiFi hot spots to learn through the online program MyPath. High school teachers used Google Classroom to send weekly assignments to students with themes.
School ended a week early in May, and the next week's senior graduation was virtual and streamed by EPSTV on Facebook and YouTube, while an in-person ceremony was held June 18.
As the district began putting plans into place for the fall semester, new COVID cases in Garfield County — and the rest of the entire state — began climbing sharply.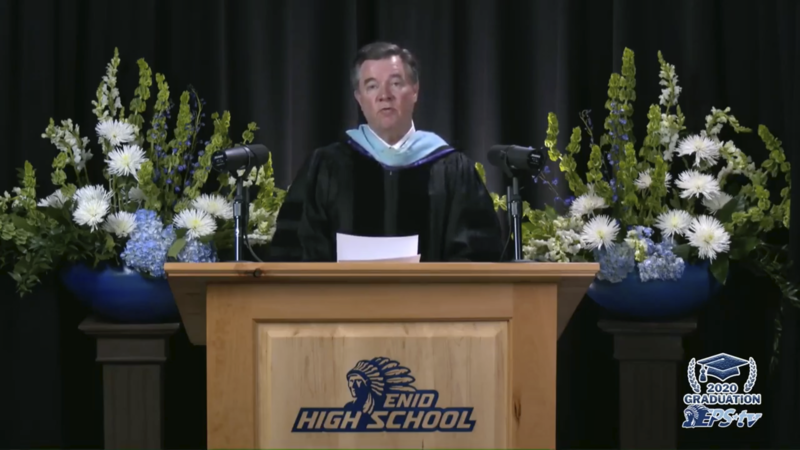 'Backed into a corner'
EPS teachers spent much of their pre-school professional development learning virtual techniques, as parents fretted over several questions — would school return in-person, would students have to attend on alternate schedules, and would their children have to wear masks the entire time?
Students in mid-July were confirmed to have to wear masks outside the classroom. EPS Board of Education unanimously voted at the end of July to then follow the state Department of Education board's COVID-19 guidelines recommending mask-wearing, with several provisions depending on grade level or location.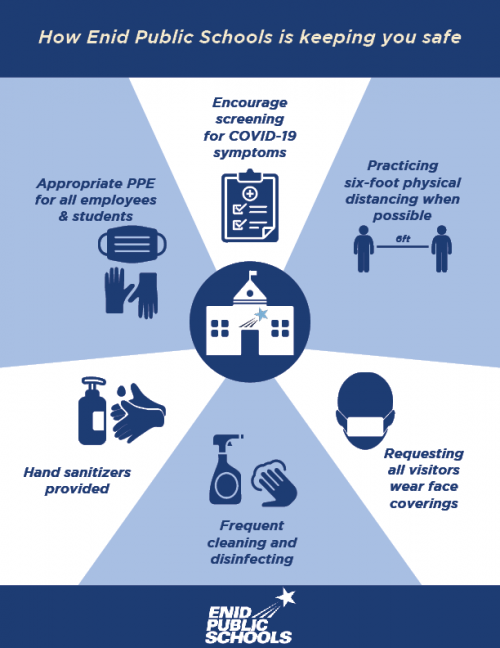 These guidelines depended on weekly new case averages per 100,000 in the county, which OSDH releases every Friday as a way to track community spread.
These recommendations also included starting school on an alternate A/B weekly attendance schedule, in order to cut in half the number of students at school four days a week.
School returned in the fall with COVID relief-funded supplies, materials and protocols — such as various types of masks, plexiglas windows and large-gathering restrictions — as well as a developing virtual-only learning program for hundreds of students and parents who felt safer learning from home.
EPS' board again voted, this time in a narrower 4-3 vote, to follow ODE's color-coded tier system similar to OSDH's, but removing the alternate schedule option.
"That seemed like a good idea at the time, but it eventually backed us into a corner we couldn't get out of (based on county COVID numbers rather than EPS COVID numbers)," Floyd said in his email.
That corner was another move to districtwide distance learning from early November through to Christmas break.
This second closure resulted in more extracurricular and classroom-related cancellations, as families and teachers again had to wait for OSDH's weekly average report for Garfield County — which did not have its own approved virus mitigation plans in place unlike the school district.
Throughout the fall, hundreds of individual EPS students and staff — as well as whole elementary classrooms and entire school buildings — went into either isolation after testing positive for COVID or quarantine for coming into close contact.
In either case, students would miss in-person school for at least a week or a two at a time.
District officials, along with nurses, set up a tally case total spreadsheet once these numbers started climbing several weeks into school.
At least one class in every elementary school went into quarantine, EPS nurses said.
Adams and Hayes elementary schools were closed entirely in the fall for at least one week. Hayes was closed because of staff quarantines that left the building without coverage, district spokesperson Jane Johnson said.
County health officials, who performed contact tracing to determine potential exposures, said most of these positive cases were coming from out in the community, while quarantines resulted from close contact within school.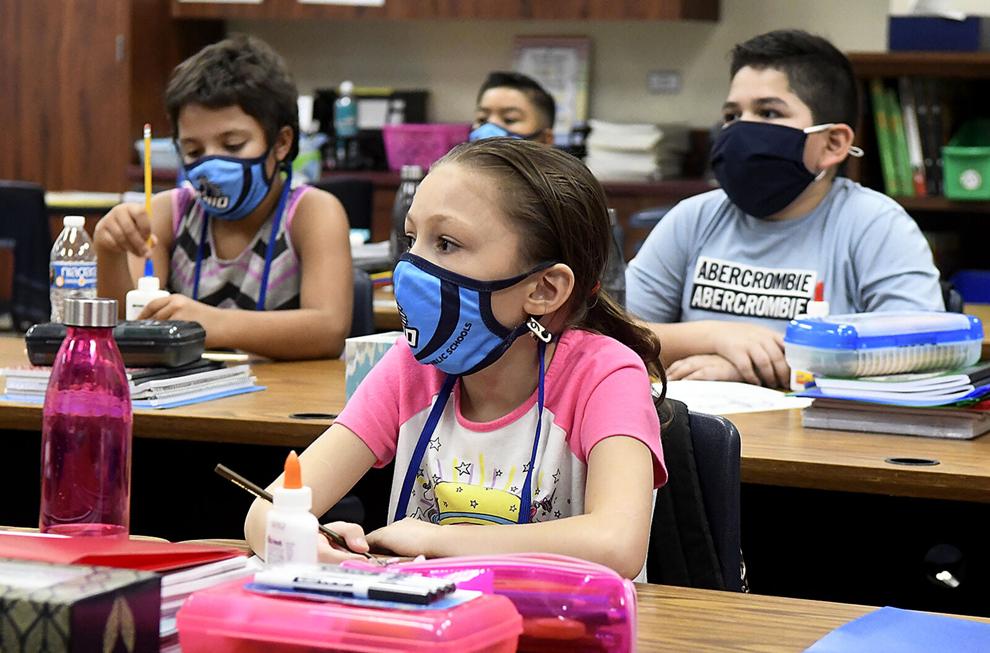 'On the downhill side'
In December, EPS board this time voted to change the criteria for campus away from ODE's system instead to answering two questions: "Do we have enough faculty/staff present to operate the campus?"; and "Are we under the campus threshold of 30% of our faculty, staff and students being affected by COVID (or isolations and quarantines)?"
Eisenhower Elementary School was closed for a week in January because of essential staff quarantines. But while several classrooms have continued to be quarantined this semester, the number of students and staff affected has declined.
More students also are returning from virtual learning to brick and mortar, according to enrollment figures, the most being from elementary and middle school.
More EPS teachers and staff have been getting the COVID vaccines — the second of two countywide school staff clinics is set for March 27 at Oakwood Mall.
"It's been a long time coming," EPS head nurse Karry Easterly said before the first clinic in February. "It's real quick and smooth. Garfield County really has it down."
Next year, Floyd said he wants to both keep students in the classroom and help those who have fallen behind as the COVID-19 pandemic winds down.
Floyd also plans to continue analyzing and mitigating the COVID's financial impact on the district, among his six broad goals for the 2021-2022 school year EPS board members approved after an executive session Monday night.
EPS CFO Sam Robinson said the district hasn't had any new COVID-related expenses (like mitigation efforts) since December. EPS had hit the $1 million spending mark and took a $1.4 million reduction in state mid-year allocations, based on districtwide enrollment.
After this year receiving $6.4 million more in federal relief aid, EPS is "sitting pretty good right now, as far as financially," Robinson said Friday.
These funds from Elementary and Secondary School Emergency Relief (ESSER) II must be spent over a period of two years and will come from reimbursements.
Robinson said he expects EPS to receive another unknown amount of emergency funds from President Biden's newly signed $1.9 trillion COVID relief package.
"I am thrilled to see that, hopefully, we are on the downhill side of this once-in-a lifetime ordeal," Floyd said Thursday. "We are so proud of all of our EPS employees, students, parents, and community members who have weathered the storm with us."
Later editions of the News & Eagle will continue looking at a full year of the COVID-19 pandemic.