Parents of Enid Public Schools students will be responsible for deciding whether to quarantine their child at home after possible exposure to COVID-19 once the school year begins Wednesday.
Parents of elementary-age EPS children will be notified if a student in their child's classroom tests positive for the virus, but that won't happen for students in multiple classes at the three middle schools and Enid High School, said EPS' lead nurse Karry Easterly.
Easterly said notifications will be sent only if an elementary parent decides to report the positive COVID test result to the school.
"We're trusting parents to do what's best for their children and staff to do what they're supposed to," she said Tuesday. "Especially in Enid, people want their kids in schools."
Unlike last year, EPS nursing staff also won't be performing on-site testing or contact tracing of possible exposures, Easterly said.
Instead, only self-reported, positive-case isolation totals will be updated for each school site online.
"The school is not contact tracing, so we won't unless we're notified by someone above us," she said. "As long as we don't have to, we're not (testing)."
Garfield County Health Department will instead be contact tracing by itself for EPS students and staff this year if a positive test is reported.
Maggie Jackson, with the county Health Department, said, "It is definitely not recommended for schools to not participate in contact tracing."
Easterly said this year, the district is relying more on parents to monitor their students for any symptoms of the virus — these may include fever or allergies that don't go away with medication.
Students are asked to remain home from school for 24 hours until fever symptoms are no longer present without medication, as well as to use hand sanitizer, wash their hands and wear masks if necessary.
Easterly said the district will continue to be lenient with sick days for children out due to COVID isolations or exposure quarantines.
"We don't want to send healthy kids home like we did last year," she said.
Each of EPS' six registered nurses is responsible for around 1,500 students, she said, along with two licensed practical nurses who primarily care for the school's special education students.
A districtwide vaccination clinic held Tuesday, for annual sports physicals, tetanus and TDAP shots, also included around 50-75 first-dose COVID shots, Easterly said. Children at least 12 years of age are eligible for the Pfizer vaccine.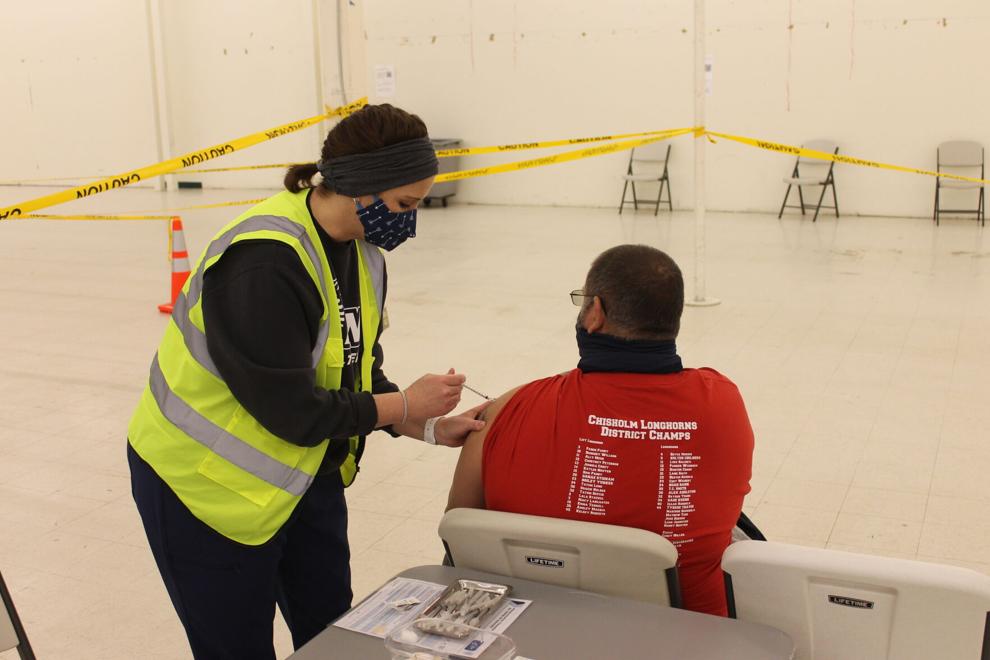 When should I keep my child home?
The district recommends following county Health Department and personal physician guidance on handling a positive case or possible exposure.
Oklahoma State Department of Health, as of July, recommends exposed contacts who are fully vaccinated or tested positive for COVID-19 within the last 90 days are not required to quarantine.
OSDH also recommends an A-B symptom assessment tool when someone should be sent home and/or be tested for COVID — testing is recommended with at least one A symptom or three B symptoms.
"A" symptoms include fever of at least 100.4 degrees, sore throat, cough, difficulty breathing, diarrhea or vomiting, and loss of taste or smell; "B" symptoms include nasal congestion/stuffy nose, runny nose, muscle/body aches, fatigue, chills, nausea, loss of appetite, an elevated body temperature under 100.4 degrees, or new onset of severe headache.
OSDH recommends school districts develop and communicate written processes for ill staff and students in isolation or in quarantine, as well as a process for contact tracing.
School districts are recommended to contact the state Health Department's county-assigned communicable disease nurse if two or more cases from different families occur at a school.
Face masks cannot be made mandatory in schools under the new state law SB 658, though this is expected to be challenged in state court by legal counsel for Tulsa Public Schools, while the district and Oklahoma City Public Schools opened last week with mandates in place.
Isolations and quarantine policies will remain the same as last year at Chisholm Public Schools, whose classes also begin Wednesday.
The district also will maintain the contact tracing spreadsheet kept online last year for both positive-case isolations and quarantines.
Chisholm will send a notification out to all parents if a positive case has been confirmed in their child's grade, Superintendent Chad Broughton said.
"Since we do not have a school nurse, that burden falls on the school administration to work with parents and the Garfield County Health Department, which is the same as last year," Broughton said.
According to OSDH, 13.8% of new cases by Aug. 7 were between 5-17 years old, representing 2% of recent hospitalizations. The most hospitalizations of either vaccination status are from those aged 65 and older.