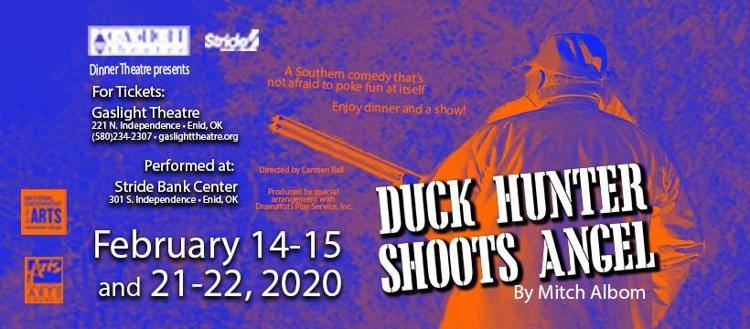 ENID, Okla. — Tickets still are available for Gaslight Theatre's annual dinner production.
Carmen Ball is directing "Duck Hunter Shoots Angel," a comedy about two hapless hunters who think they're in big, BIG trouble.
"Duck Hunter Shoots Angel" was written by Mitch Albom, author of "Tuesdays With Morrie" and "The Five People You Meet In Heaven." In the play, two duck hunters from Alabama who have never shot a duck in their life believe they end up shooting an angel. They're really eager to spread the word about how good hunters they are, but then figure that maybe shooting an angel isn't as fantastic as it sounds.
Pretty soon, a tabloid from New York gets wind of the news and sends a reporter and photographer on their own hunt to the Alabama swamp to find the "famous" duck hunters.
"They're terrified about whether God or the press will find them first," Ball said.
Ball calls the production a cross between "Duck Dynasty" and "The Three Stooges," with some heartfelt moments at the end.
This year's show will be Feb. 14, 15, 21 and 22 at the Stride Bank Center. Tickets are $65. Attendees can choose between a main entrée of strip steak or chicken with a lemon buerre blanc sauce. A cash bar also will be available. Each night, dinner will start at 7, with the show at 8.
Ball says tickets, for those who want dinner, need to be purchased at least a week in advance, so the Stride Bank Center crew can determine how many they need to cook for. They can be purchased at gaslighttheatre.org, at the box office at 221 N. Independence or at the Stride Bank Center box office. For information, call (580) 234-2307.
"There's still a lot of good tickets out there," Ball said.
The show is recommended for about mid-teen and older because of some profanity.