Enid Symphony Orchestra will present an encore performance of music made famous by legendary singer and movie star Judy Garland this Saturday at Government Springs Park.
With vocalist Joan Ellison, "Get Happy! A Celebration of Judy Garland's Greatest Hits" will feature the orchestra playing original back-up charts of songs written and arranged for Garland.
Ellison, a classically trained soprano and a music professor, has herself worked for years to restore and transcribe Garland's arrangements, including ones for Saturday's show, which will feature standards such as "The Trolley Song," "Come Rain or Come Shine" and "Over the Rainbow."
Ellison's colleague recently found the original film music of that "Wizard of Oz" classic — which she calls the "Holy Grail" of Garland arrangements — in the files of Garland's first husband, David Rose.
Saturday will be the first time that original orchestral arrangement, among others Ellison has restored, will be performed live. She has performed with the ESO twice before — first with a pianist and then "Get Happy" in April 2018 with the full symphony in the main performance hall.
Gates open at 6 p.m., and the show begins at 7:30 p.m.
Admission is $20 for general and $30 for VIP included for all ESO subscribers. Admission is free for children under 12 accompanied by an adult. Seating for VIP ticket holders will be reserved directly in front of the gazebo and the first two tiers of the hillside, and chairs will be provided for season subscribers.
No concessions will be sold, but attendees can bring a picnic dinner or refreshments of choice.
Attendees are asked to wear a face mask when entering or exiting the park and at any time they leave their seating location. The park allows for social distancing for audiences.
Below is a condensed and edited phone interview with Ellison, who spoke with the News & Eagle from her home in Shaker Heights, Ohio, on Friday, about her life during the COVID-19 pandemic, her work outside of performing and her love of Judy Garland: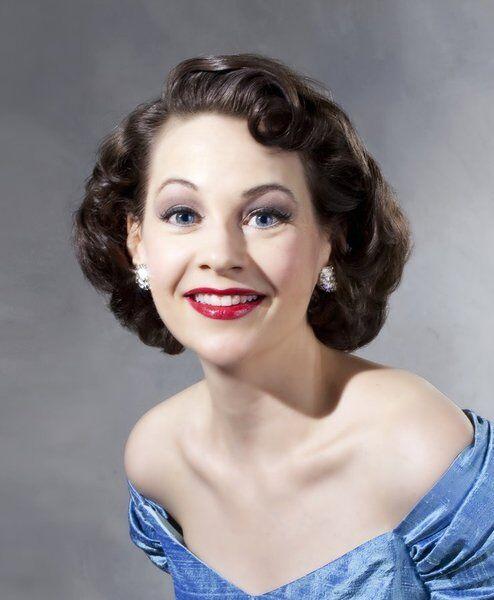 Enid News & Eagle: First and foremost, welcome back to Enid. How has performing your show, "Get Happy," been for the past year — I don't know what your performance schedule or your touring schedule has been.
Judy Ellison: Well, it's been nothing since March. I teach "singing for popular voice" at the Cleveland Institute of Music — which has also been online, so basically I haven't left my house since March, but like many of us. (laughs)
ENE: So can you talk me through the career-long, I don't know what you could call it, fascination with Judy Garland?
JE: My first vocal influence was Judy Garland, so it goes really deep for me. I don't really remember a time when I didn't know her, at least that recording of 'Over the Rainbow" that made me decide I want to become a singer, and I was 2.
I trained in classical voice at Oberlin, graduated and went back to my early love, vintage popular music and musical theater.
And then in 2009 … I'd stayed away from doing a full show of Judy Garland material even though I'd been doing a lot of her songs on other programs and just thought well you know what, just gonna do it.
And so we got that going, and it still included my husband and a pianist, and then through some weird thing, I started singing with orchestras, and then decided to create an orchestra show of Judy Garland material — that was around 2013.
And weirdly enough through a series of events, I ended up connecting with (Great American Songbook archivist) Michael Feinstein in the summer of 2016.
One thing led to another, and within about a week of meeting him, he'd already sent me the parts for "Come Rain or Come Shine." I don't know if you know that arrangement; it's pretty crazy.
ENE: From the Carnegie Hall performances? That's a tough one to start off.
JE: Yes, and so I think that was the first restoration I did. I had been doing transcriptions of Judy Garland's arrangements — like note-for-note piano transcriptions off recordings — but i really had to up my skills as far as orchestras go and instrumentations.
Michael asked me to be the editor for the Judy Garland Carnegie Hall restoration project, where we basically tried to pull together all the existing original parts and scores for that concert and restore them. I spent about two years on that, and we finally got to perform all of them in New Jersey a year ago last June, and (Judy's daughter) Lorna Luft came and hosted and she sang. …
And I got to sing on that as well, and in fact, I got to sing "Over the Rainbow," which was like, wow this is crazily coming full-circle after a decades-long journey.
And that was her concert version of "Over the Rainbow," but then Michael found the actual film version of "Over the Rainbow," with all that parts that had been missing that had been from 1939.
That's the one I'm going to do with the Enid Symphony. It will be a brand-new, shiny restoration of the film version.
I don't know if you know, but (the film studio) MGM threw out all their musical their music library basically, it's buried in a landfill — in 1969. They mostly kept like a condensed score of things, but all the individual parts were thrown out.
ENE: How would you describe her musicianship, and then comparing that to yours? Because you said you're classically trained and have that background, while she grew up in the MGM universe, and it's a very different training ground.
JE: All that natural talent, but also all that work and training and conditioning. She was working with the best people in the field.
I just don't know that we could ever have another Judy Garland.
So that said, although I've been doing this a whole long time … I don't try to be her.
I'm trying to take her (technical) style, but when I sing it, I'm trying to do it live and fresh and in the moment.
I think one of the things that makes her such an amazing performer is that there's no barrier between her and the song. So it's just an emotional connection with the song that she channels through her, and I'm trying to do something similar.
ENE: What are your favorite numbers to perform — I know you said "Over the Rainbow"? Any other personal standouts?
JE: Another favorite is "The Trolley Song" — I spent the last three months restoring that arrangement, and this is going to be a premiere in Enid of that restoration.
It's the original film orchestration as close as I could get by Conrad Salinger, who was one of the really, really top arrangers at MGM at the time. And the parts were lost, so I had to restore it from the condensed score and the recording.
ENE: Are you going to don a beard and do "Ol' Man River"? I think that would be an interesting change.
JE: Oh, no! (Laughs) Absolutely not. That's probably not one I would pick to do. She gave it her all and it's moving, but that might be a Judy-only kind of number.
ENE: Do you think there's been or have you noticed a cultural resurgence about her in the recent past, like with the TV movies, the "Judy" biopic and other dramatic arts about her story (like the play that was adapted into the movie)? Or just from easier, online access to her performances?
JE: I think the last choice is maybe bigger because there's a whole group of people now who've grown up watching Turner Classic Movies and YouTube access, which I wish I'd had.
I think there definitely, though, was a resurgence with the movie, which I haven't been able to bring myself to watch yet.
Generally, sometimes people have this notion that Judy's life is all tragedy, which is why I think I have the problem with the stage play and the concept of the movie. I hope (my audiences) come away with a lot more sense of the joy she took in connecting with an audience and just her overall musical artistry. ...
That's something people say a lot, that they're going to have a whole Judy Garland film festival now. ... I don't think people often realize what a huge body of work she left us.
ENE: Thanks again for taking the time to talk to me. Break a leg next weekend.
JE: Thank you. I'm really looking forward to coming back to Enid. The musicians are really great, and (ESO director) Doug Newell is just a real treasure. It's amazing they have an orchestra of that caliber.
ENE: Hopefully people can forget their troubles?
JE: Yes, and get happy, would be nice! Particularly this year!
Tickets for Saturday's performance of "Get Happy! A Celebration of Judy Garland's Greatest Hits" featuring Joan Ellison are available online at www.enidsymphony.org or at the park gates.