ENID, Okla. — As the winter weather started getting chillier Sunday, Jeannie Martin stayed inside instead of going to services at World Harvest Church.
But that same evening, after walking outside the Mercy House homeless shelter, she slipped on the ice and fell on her side.
While now she has solid-gripping boots, Martin said Wednesday she was starting to feel the pain down her side, even with the aspirin she got from the shelter.
Martin, who had been staying in Forgotten Ministries' night shelter for the last two months after losing her apartment in Billings, said she got a job earlier this week at McDonald's on Maine.
Now she just needed to find a pair of no-slip shoes for work — ones besides her boots.
"I want to get out of this mess. I'm just doing everything I can to get out of it," Martin said as she was eating cornbread and a bowl of vegetable soup during dinnertime at the shelter. "I'm just proving them wrong, and that's how I'm doing it."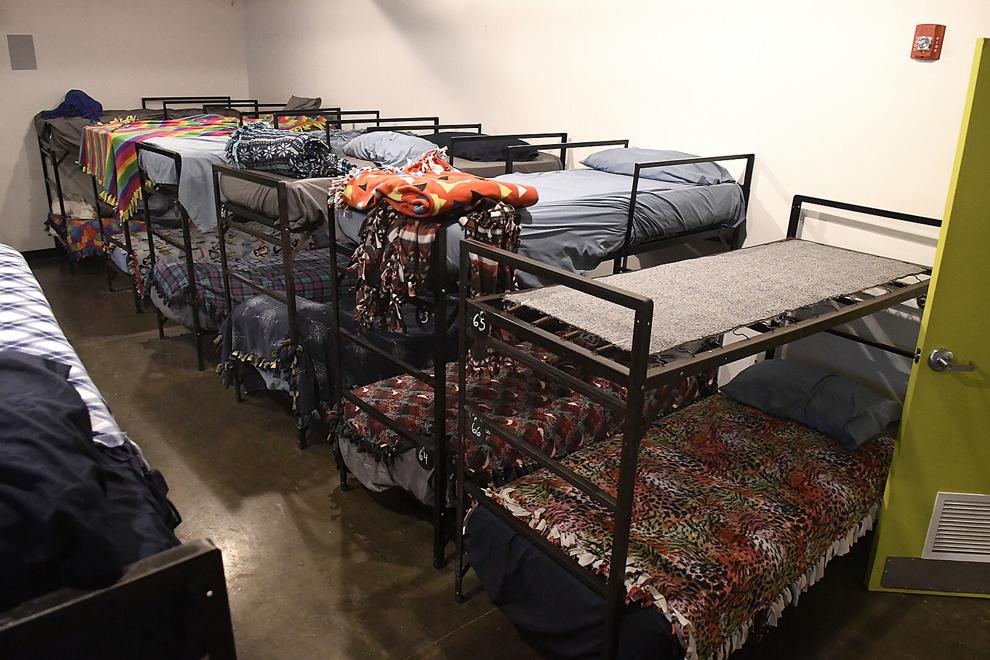 'One body and many parts'
Enid's homeless community — people regularly without safe shelter or those in-between having a place to stay — have found ways to keep warm to avoid the icy weather gripping Enid this week.
Around 40 to 50 people like Martin and her friend, Edward Thornton, have stayed at the shelter in the city's Southern Heights neighborhood.
That's around twice as many people the shelter normally takes when the Oklahoma winter isn't this severe, volunteers said Wednesday.
Forgotten Ministries director Jeremiah Herrian has previously said the shelter can house up to 150 people.
Every day at 5 p.m., van drivers pick up anyone coming to the seasonal shelter from downtown Enid's Five80 Coffeehouse, owned by Forgotten Ministries.
Typically, drivers pick people up from Our Daily Bread, but the COVID-19 pandemic changed those plans since Our Daily Bread eliminated indoor seating.
The soup kitchen at 616 W. Randolph has continued its daily food service from 10 a.m. to noon as takeout-only.
Once guests arrive at the 10,000-square-foot shelter, at 1714 S. 4th, they check in at the front desk, where they receive laminated name tags with their photos on lanyards. Volunteers give them bags of clean clothes with their bed numbers on them, as well as extra no-sew blankets for beds.
Guests are required to take showers, put their dirty clothes in the bag and give them to the volunteers, who then wash them through the night and return them the next morning. Mercy House has four washers and seven dryers that sometimes run until 1 a.m. when plenty of people stay the night, volunteers said.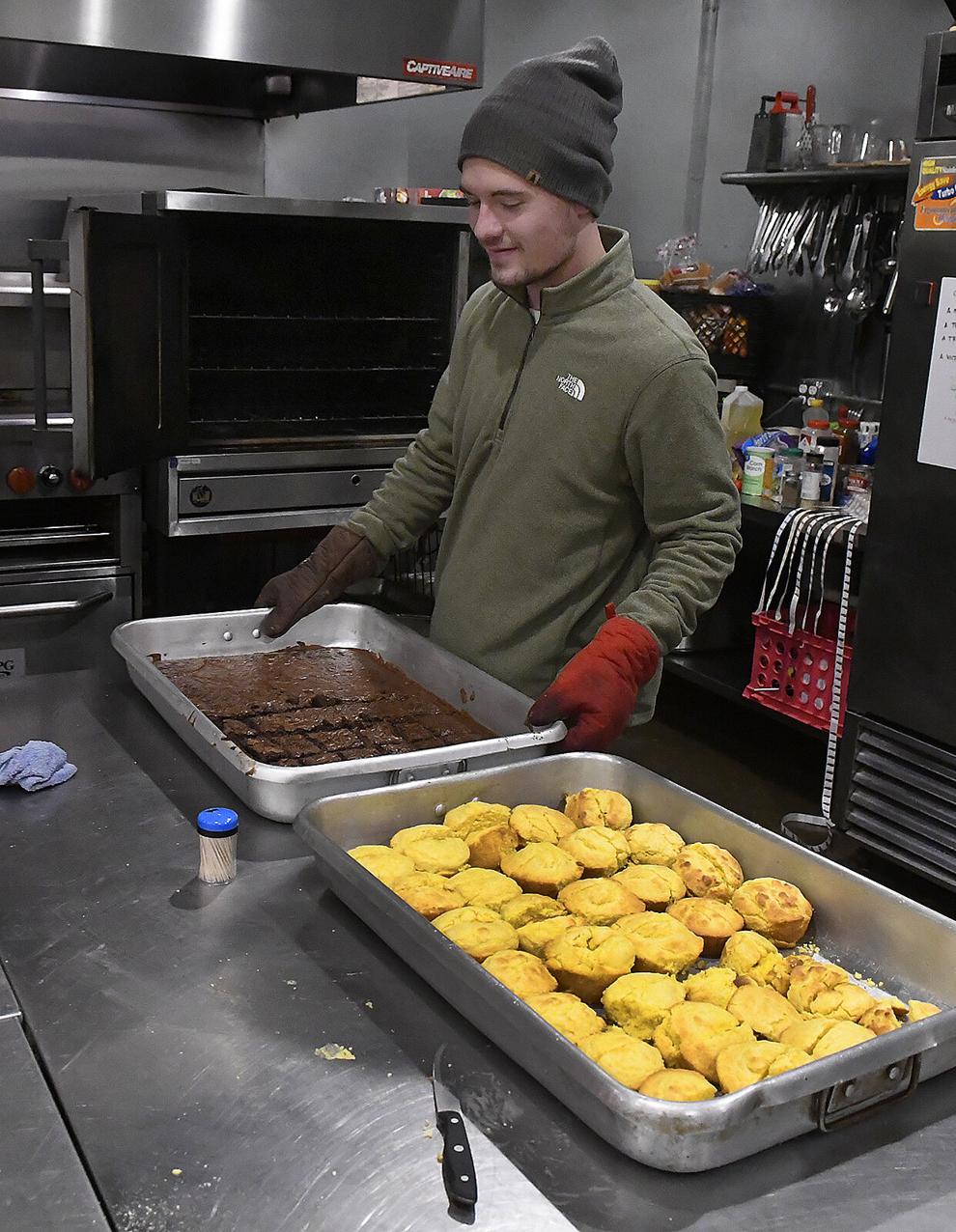 Baskets of men's and women's undergarments of all sizes sit in baskets on shelves in the laundry room, as well, while in the clothing closet next door hang shirts, pants, outerwear and more clothes. Baskets of toiletries like body wash and shampoo also sit in the closet, to refill the ones guests take from on the shelf outside in the hallway and then put into ziplock bags for their showers.
After a pre-dinner service and volunteer-prepared dinner at 6 p.m., guests head to bed. The next morning, people are bused back to Our Daily Bread or Five80 at 8 a.m.
Shamblin said usually more men stay at the shelter than women, who have a separate sleeping quarters area with the same number of beds and an extra bathroom-shower area.
Mainly open during the winter, Forgotten Ministries' evening shelter primarily runs for four months from November through February. The shelter has been open since January 2014, and stays open "when the city needs us," one of its directors, Brian Shamblin, said Wednesday.
"We'll be open for one person and we'll be open for 100," Shamblin said.
It's expected to close March 1, but the last two seasons, he said Mercy House still would be open if the weather stays as it is.
He said talks have been ongoing about keeping the shelter open several more weeks this year, too.
Shamblin said it might be open again all day this weekend if Five80 closes early, which he added means two more meals a day, more volunteers needed to make those meals and more donations to keep food supplies stocked.
"It's like it says in the Bible, there's one body, (but it has) many parts," he said, citing a passage from 1 Corinthians. "It takes a lot of people, a lot of volunteers."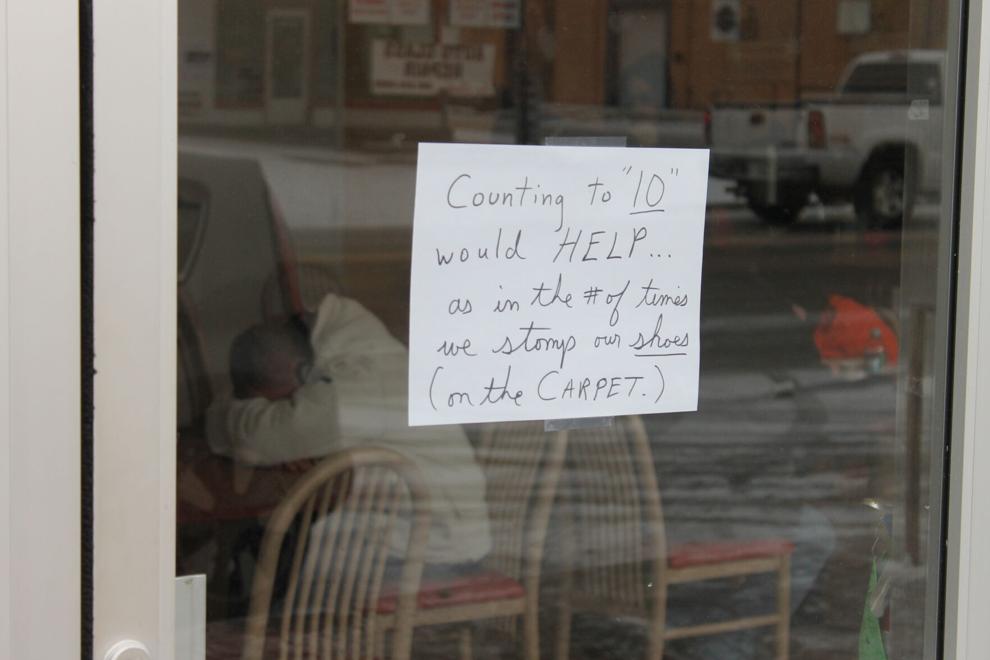 'Options are good'
A handwritten sign taped to the front door of Hope Outreach Ministries' day shelter tells visitors to "count to 10" as they wipe their shoes off on the two rugs inside.
Shelter visitors can use amenities like food, coffee, a hot shower, bathroom and both a washer and dryer, provided through Hope Outreach's work-for-exchange volunteer service program.
The homeless shelter, at 815 E. Maine, is open 8 a.m. to 4 p.m. Monday to Friday and has kept those hours during the winter.
Shelter director Sandie Hamilton said not many people are taking showers right now, though, because of Mercy House's shower entry requirement.
She said they also haven't gotten any requests for winter-wear since Mercy House has been open and providing such clothes.
Unlike Mercy House, the day shelter has seen fewer visitors over the last few days, Hamilton said Tuesday. Last week during regular weather, it averaged around 40 people a day, while the past two days have had about 16 on average, she said.
While Hamilton said she was surprised at first by the relative silence, she assumed other homeless visitors were finding places to stay warm during the day, between coming and going from Mercy House.
Since Mercy House is usually only open in the evening — excepting for last Sunday or when otherwise needed — that leaves nine or so more hours of the day when people need to get out of the cold.
But Enid's long-running network of faith-based services for homeless people continues to fill that time gap during the winter weather.
Hamilton said people, having received stimulus checks, were probably also staying in motels.
"They hunker down when it gets cold (and) they find places to go. They're very resilient — people who are homeless in our community are very resilient," Hamilton said. "If they really needed to be here, they'd be here."
Enid Police Department spokesman Cass Rains said evening-shift officers haven't performed any welfare checks on homeless people — which first must be requested — since weather began worsening Saturday.
If any officer does come across someone outside in the cold, Rains said they would ask if they needed a ride to a shelter like Mercy House or Salvation Army, call to check availability and escort them over.
During the winter, the dining room at Salvation Army of Enid, at 518 N. Independence, has served as a warming space during the day.
While the longtime charity organization also operates a nightly emergency shelter seven days a week, anyone can stay in the dining room all day and watch TV, get a shower or do laundry, Salvation Army Capt. David Brittle said. Laundry services also are available at noon on the weekends.
"In the culture, in the climate that we're in, options are good," Brittle said. "Having an option to come and do laundry and get a meal and not actually have to stay — we found that's good for some people."
Visitors coming to the warming space are asked to show ID, but Brittle said some who may not have any still are allowed. All are also subject to breathalyzer tests, he added.
Salvation Army also provides daily community dinners at 6 p.m. available to anyone, as well as a meal at 5 p.m. for those also staying in the emergency shelter.
Brittle said Salvation Army averaged 31 people a day in January in all of its spaces. During the warmer weather, they see fewer visitors who stay overnight, he said.
James Neal, with Enid Street Outreach Services, has previously estimated around 200 people are currently without regular shelter in Enid, having increased around 60% during the pandemic.
With Enid Faith Ways, ESOS is providing shelter to one homeless man who's unable to find shelter elsewhere, Neal said Wednesday.
ESOS also is continuing to meet daily needs like providing emergency medication assistance and grocery help to those moving up from homelessness, he said.
The organization is always in need of clothing donations, he said, which can be made on Facebook or by emailing him at holycrossenid@gmail.com. Rhonda Stevison, with Enid Faith Ways, has provided several people with extra outerwear, coveralls, gloves and sleeping bags, Neal said.
Something's gotta give
Tim, one of Mercy House's regular visitors, was enjoying his free small cup of coffee at Five80 on Tuesday afternoon.
Forgotten Ministries' coffee shop, at 122 E. Randolph, has been a regular haven for Enid's homeless community since it opened eight years ago. Customers can pay for a pay-it-forward meal or drink that other customers can pick off the wall by the door.
Though temperatures in Enid dropped into the teens Tuesday, the Marines veteran from Illinois, who was once stationed in upstate New York, said he wasn't worried about the cold weather.
But Tim did notice how cold it had gotten this far south since he's been living in Oklahoma on and off since 1978.
If you stay outside, he said, "you will perish, my friend, you will die."
Instead, Tim had other problems on his mind, like how he was going to pay for a knee replacement. He wasn't in active service when he broke his knee cap, so his veteran's benefits won't cover the medical procedure, and he's stuck waiting on Social Security disability to come through.
"You don't wanna get caught in the red tape of the United States government," Tim said. "And guess what, that's where I'm at."
However, with the downtown Breezeway area closed and Five80's plans to add outdoor seating left in legal limbo, once Mercy House possibly shuts its doors in March, Tim said he didn't know what would be next for him and other homeless people in Enid to go during the day.
"It's gotta give some way. It'll give ... it'll give, or get better, or we'll die," he said with a matter-of-fact shrug, before taking another sip from his coffee cup.