ENID, Okla. — A four-hour, oft-contentious meeting Tuesday night saw Enid passing a mask mandate after a third attempt.
Under the ordinance, which goes into effect at 8 a.m. Wednesday, all people in Enid must wear a face covering consistent with Centers for Disease Control and Prevention guidelines in any public, indoor location.
This requirement does not apply to Vance Air Force Base, Garfield County Court House, school buildings, religious institutions, hospitals and other medical residential facilities. A list of individual exceptions is available online.
The declaration expires before midnight Feb. 28, 2021.
Enid City Commission's vote Tuesday was near-unanimous, with Ward 6 Commissioner David Mason the sole no vote.
Two draft declarations were up for consideration during the commission meeting, one from Mayor George Pankonin and another from Ward 3 Commissioner Ben Ezzell.
Following a motion from Pankonin and a second from Ward 1 Commissioner Jerry Allen, commissioners voted to approve Pankonin's proposed ordinance, which had less-specific enforcement provisions.
Rather than being cited specifically for not wearing a mask, people could be ticketed for offenses such as trespassing, disturbing the peace and disorderly conduct. Similar to a mandate he had proposed and later canceled in September, Pankonin's draft takes after Muskogee's, which itself passed last week after five failed attempts.
Changes to the enforcement provisions did not gather a second to Ezzell's proposed amendment to add specific fines for not wearing a mask and "give it some teeth." His draft was similar to Oklahoma City's, which fines $9 for initial offenses.
After being called to speak on enforcement by Ward 2 Commissioner Derwin Norwood, Enid Police Chief Brian O'Rourke said OKCPD's public information officer told them no tickets had been issued under the mandate.
What do you think about the city of Enid enacting a mask mandate?
O'Rourke said officers being called over someone not wearing a mask runs the risk of escalation.
"So we're actually going to put somebody possibly in jail on a $9 citation? That's crazy," he said. "And what happens if they don't go to court. Is there going to be a $500 failure to appear warrant on them?"
"I think there's value in the citation existing that has an impact on people's behavior, just by the citation existing," Ezzell said.
On Friday, Oklahoma State Department of Health reported an average 132 new daily cases per 100,000 population over the last week in Garfield County, nearly double its average 72.5 cases the week prior.
Garfield County saw an increase of 40 cases Tuesday, for a cumulative 4,030 COVID-19 cases, with 678 active, a single-day decrease of 60, and 3,315 recovered. Of those, 3,652 were in Enid, with 609 active, a decrease of 56, and 3,008 recovered, according to OSDH.
There have been 37 deaths in Garfield County, with 35 from Enid and two from Lahoma.
Seeing red
Many of those in attendance in person Tuesday night wore red shirts to signify their opposition to the mandate. Those in red have regularly expressed their opposition to a mask mandate at city meetings since the first mandate was up for a vote in mid-July. That mandate failed in a 5-2 vote.
"Everyone you see behind in red still do not support mask mandates. The color red traditionally means stop, as in, 'Stop bringing this up,'" said Jennifer Henry, reading for her husband, Brian, who was initially signed up to speak.
"Since June we have begged and pleaded with this council to listen to us," Henry said. "In March, we were told two weeks to flatten the curve. Now we're looking at a photo-negative."
As members of Enid Freedom Fighters, both are circulators of the petition to recall Commissioner Ben Ezzell, who had proposed a second mask mandate in August that failed in a closer 4-3 vote.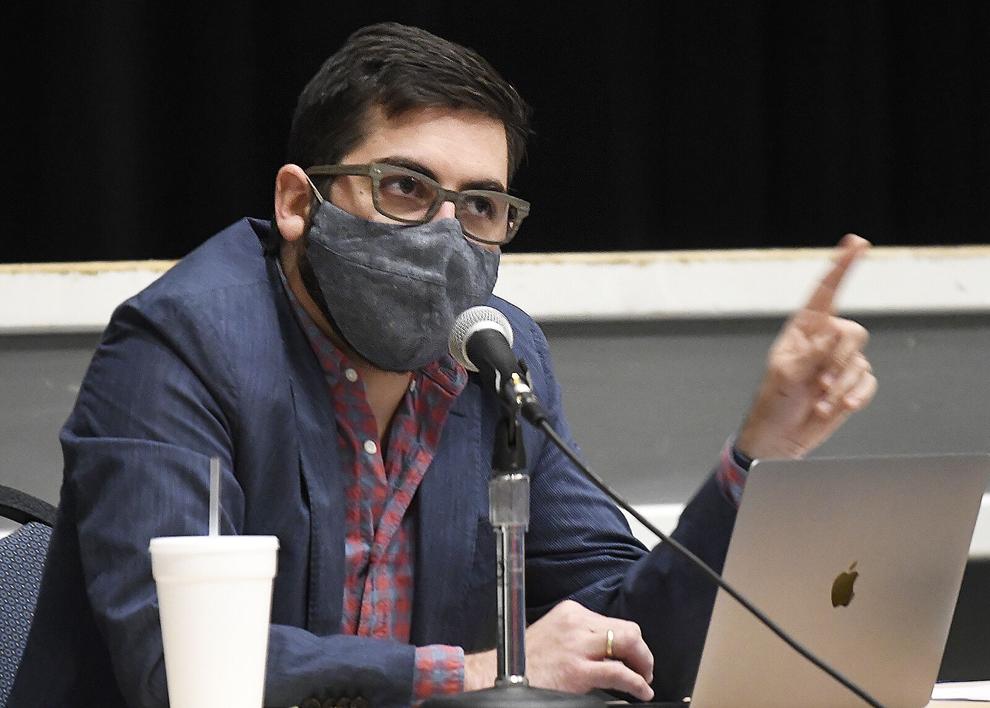 All three meetings saw tensions during public comment and in the midst of city business. While a two-minute time limit was in place, speakers on both sides frequently went over their allotted time, and attendees on several occasions called out Ezzell from the audience.
Enid Freedom Fighters founder Melissa Crabtree spoke on a petition gathered over the weekend asking the commission to not pass the mandate.
The group submitted the petition to Mayor Pankonin and the city clerk earlier Tuesday with more than 1,300 signatures the group reported are from residents of Enid and Garfield County.
"There are more than 1,300 voters who are behind you in this grassroots effort. We know you are not responsible for the deaths of members of our community. … I appeal to your conscience as strong men," Crabtree told commissioners. "Stand up to the noise of the liberal media and bullies in our community by not placing an undue burden on businesses and vote for the citizens of Enid to manage personal health affairs how we see fit."
Representing the Enid Maskers group, Enid resident Jennie Scott also on Tuesday night presented commissioners with another petition from the group, with 800 signatures of mostly Enid residents pushing for the mandate to be approved.
"Masks work. I taught a full day before I realized that my symptoms were not allergies. But because I wore a mask, not a single student and not a single colleague contracted COVID," Scott, an elementary school teacher, said during public comment.
City commissioners and attendees had earlier watched a 21-minute video from the Enid Maskers group, compiled from a Zoom call with mostly Enid residents. Those edited down in the final video expressed concerns that people weren't taking the pandemic seriously enough.
"People opposed to a mask mandate say it's about their freedom. Well, life comes before liberty and the pursuit of happiness in the Declaration of Independence, because without life, you cannot have freedom," Ward 2 resident Julia Rieman said during the video.
The philosophical issue of freedom and personal liberty — quoting from historical Western thinkers such as Thomas Jefferson, Benjamin Franklin and James Madison — was a common thread from those opposed to what was called a "tyrannical mandate" that would bring about unintended consequences.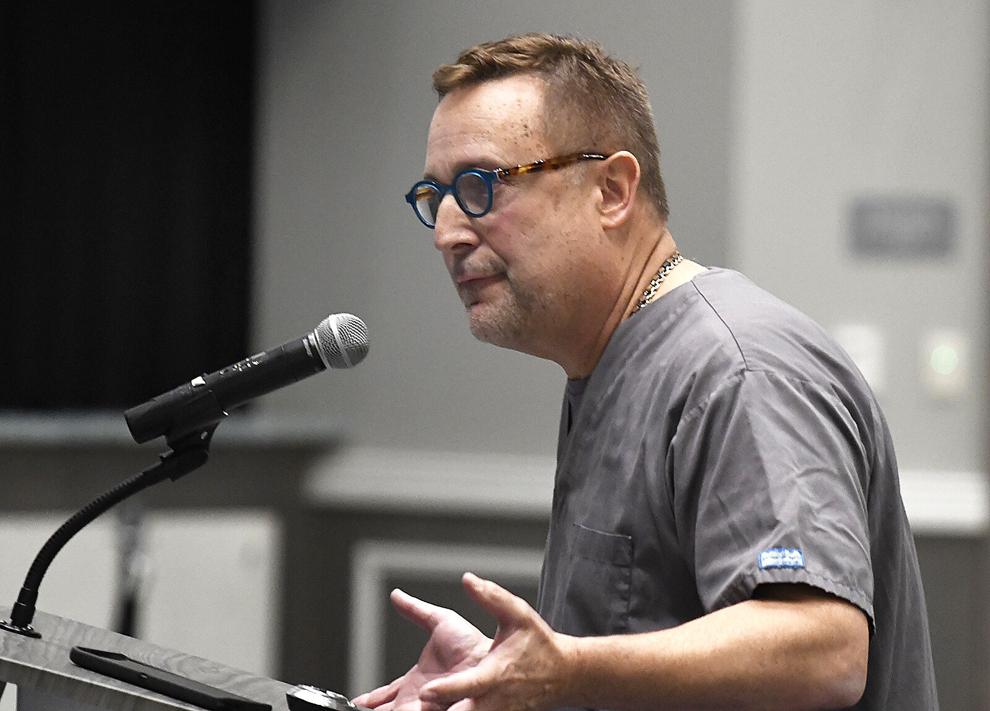 "As this is the third time, it calls into question, who is really in charge?" Jacob Bailey said. "If you won't listen to the people you represent, who will you listen to? Nobody but yourselves. We the people are in charge and need to re-establish that."
One girl, Abigail Clinton, stood on a chair to tell commissioners why she didn't want masks in a prepared, written speech.
"I would like to say that I don't believe in what you're doing and you should not mask healthy people and that children should not have to wear a mask unless needed, which in this case it's not," Clinton said.
Effectiveness debated
Several statements made Tuesday night claimed masks were ineffective, including from one Enid doctor, Dr. John Bartolozzi, who said the virus is largely fecal-oral rather than in droplets in transmission anyway.
However, the coronavirus is largely transmitted when in close contact with an infected person, with current evidence indicating the virus mostly spreads by respiratory droplets when a person breathes, coughs, speaks, sings or breathes heavily, according to the World Health Organization's updated report from Oct. 20. Others can catch the virus when it enters their mouth, nose or eyes.
Bartolozzi, who practices out of St. Mary's Regional Medical Center, also said much of the immune response to the virus is due to inflammation, so he and other doctors typically treat patients with steroids and vitamins. The most severe cases do often see severe lung damage as an overly vigorous immune response.
Masks and mandates have been shown to be effective in slowing the spread of the droplet-based coronavirus, according to both reports from the CDC and the state epidemiologist, as well as myriad local health leaders.
"We've been in a marathon, and we're all racing with other communities, and other communities got a little bit of a head start," said Maggie Jackson, with Garfield County Health Department. "If you implement a mask mandate earlier, you see a reduction in the rate of spread. So we have an opportunity to catch up, is how I see it."
Jackson said during a study session held prior to the regular meeting that studies report a range between 20%-40% of COVID-19 cases can be asymptomatic, or without symptoms.
Symptoms also may begin to appear after a two-day period of contagiousness, thereby necessitating masks for people not aware they have COVID-19, she said.
A commonly cited study from Denmark reporting no statistical significance in wearing masks is actually incomplete because the community at large itself did not have more than 50% mask compliance, she said. Instead, the study showed benefit to the mask wearer is minimized when the community at large does not wear masks, Jackson said.
Dr. Dustin Baylor, an Enid doctor, said during the regular meeting that he was sorry the commission was in this position now while 40 other states have decided on more uniform interventions.
"When a medical emergency hits, it makes no sense to ignore experts in the field," Baylor said. "I want everybody in this room to think of the last time you heard of such a mass number of our local medical community emphatically requesting something of our council that has not happened."