The Enid Kmart is closing in early April, according to a closing list released by Sears Holdings.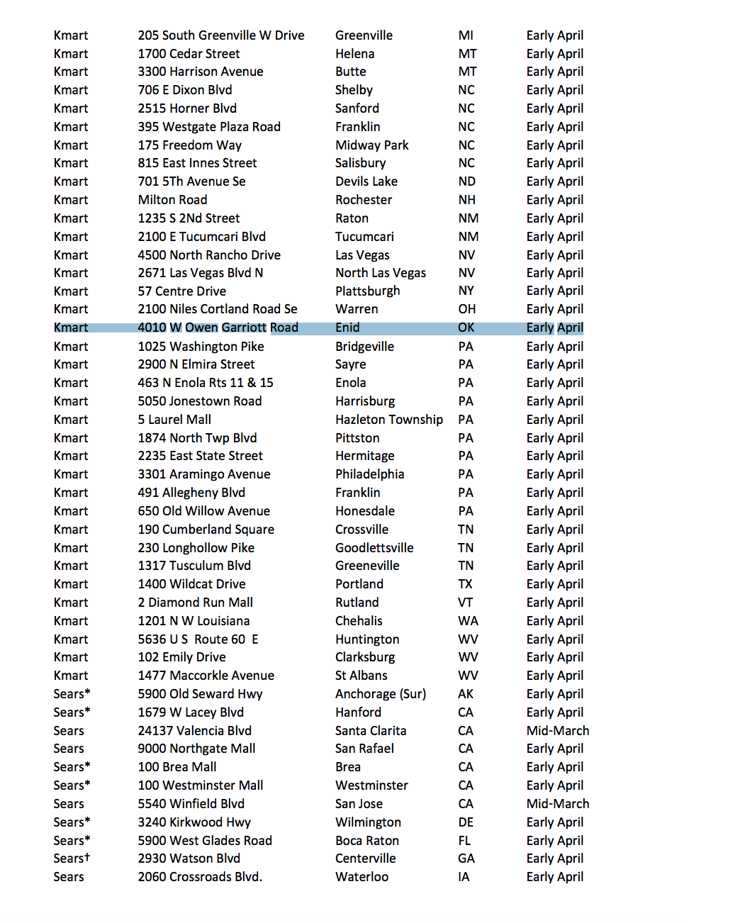 ENID, Okla. — Enid's Kmart, 4010 W. Garriott, is among 64 total Kmarts the company intends to close in the coming few months. The company also plans to close another 39 stores.
The company said it informed associates of the 64 Kmart stores and 39 Sears that those locations will be closing between early March and early April of this year. Liquidation sales will begin as early as Jan. 12 at the closing stores. Enid's store is the only Kmart in Oklahoma included on the latest list.
Eligible associates impacted by these store closures will receive severance and will have the opportunity to apply for open positions at area Kmart or Sears stores.
According to the announcement on the company's website, "Sears Holdings continues its strategic assessment of the productivity of our Kmart and Sears store base and will continue to right size our store footprint in number and size. In the process, as previously announced, we will continue to close some unprofitable stores as we transform our business model so that our physical store footprint and our digital capabilities match the needs and preferences of our members."
The company announced in October of 2014 it was closing its Sears location, which included an automotive center, inside Oakwood Mall. The store closed in mid-January of 2015.
In November 2014, an announcement was made that a Sears Hometown Store was opening in Enid. The store, located 1729 N. Van Buren, opened its doors Sept. 3, 2015, and remains open for business.
The closest Kmart stores to Enid are located in Clinton, Shawnee and Wichita, Kan., according to Kmart's website.
Store officials in Enid confirmed the announced closing but referred requests for comment to their corporate offices.