ENID, Okla. — Every night before bed, Caden Hackworth gets to read two books — a book he has to read for school and one he wants to read.
Reading with Caden usually comes at the end of a long day for Angela Hackworth, a single mom who often works 12 hours a day at Integris Urgent Care clinics as a front desk receptionist. The two moved to Enid a year ago, and Caden started first grade at Hayes Elementary School. 
His first day of second grade starting Thursday, Hackworth said she was worried Caden would have problems on days he would have to stay home from school and study virtually.
Enid Public Schools moved to alternate A/B scheduling when Garfield County was deemed at "moderate risk" for COVID-19 two weeks ago.  
Caden, who has an Individualized Education Program for his dyslexia and auditory processing issues, would only have gotten 30 minutes to an hour, two days a week, of special assisted learning. So at the end of each day, the two would have to be up late doing his schoolwork and miss their coveted reading time. 
However, since Garfield County has returned to a lower risk level for COVID-19 cases, the plan is for Caden to go to school five days a week — for now.
All Hackworth can do is wait and see what EPS will decide Friday — and every Friday after — when the Oklahoma State Department of Health again announces which counties are at more risk for COVID-19 transmission. 
EPS will then adjust its re-entry plan to follow suit, giving her three days to prepare for the week ahead if anything changes. 
"It just leaves a lot up in the air with the school," she said.
Hackworth said parents like her need more time to plan not only their child's school needs, but work schedules, family trips and affordable child care options. 
She took a hit financially after she was furloughed in March, when her clinic closed temporarily. She then had to wait each Friday to see if she would get to go to work.
"It is a struggle week to week, but it's going to be a struggle for the entire school year," she said. "And that's how I've lived since March."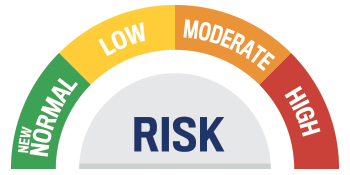 Back to school
As of Friday, Garfield County is now in the yellow, "low-risk" phase and was one of nine counties downgraded from the weekly OSDH report.
Garfield County now is recording 11.73 cases per 100,000, down from last week's report of 19.23 cases that for a week brought the county into orange, "moderate-risk" for COVID-19.
The State Department of Education modeled a similar four-tiered alert system after OSDH's, also based on county levels. The Board of Education then passed this system as a recommendation, rather than a mandate, for local districts to follow.
Lisa Kramer, of Bixby, said she wishes state education officials had mandated a plan to give parents additional guidance to put everyone on a more level playing field.
Kramer is chair of the Oklahoma Parent Legislative Action Committee, a nonpartisan statewide organization that advocates for strong, equitable public schools.
"I know there are some businesses trying to help parents, whether it's through tutoring or allowing parents to work from home," she said. 
Right now, parents report a patchwork of reopening plans that vary from district-to-district and from week-to-week depending on COVID-19 case numbers.
EPS adopted the state board's recommendation as its official back-to-school re-entry plan at its most recent Board of Education meeting.
Students have two learning options: blended/in-person learning and virtual-only learning. Both tracks would utilize online platforms such as Google Classroom and Seesaw. EPS students enrolled in virtual learning will still be able to participate in extracurriculars.
As of Wednesday, 19% of surveyed EPS students showed interest in enrolling in virtual-only learning, though that number does not reflect enrollment, district spokesperson Miranda Johnson said via email. Those numbers will not be available for elementary students until this week. Middle and high school students can still enroll in virtual learning online.
Friday's new "low-risk" designation prompted EPS Superintendent Darrell Floyd to announce all students can attend classes at their buildings when the new school year begins Thursday. 
If the county had stayed in the orange, "moderate-risk" category, half of the students who signed up for blended/in-person learning would have been required to stay home during the week on an A/B schedule to lower class sizes for more social distancing. This Thursday would have been the first day for A students, and Friday for B students.
The A group would have had students in school Monday and Tuesday, then out the rest of the week; B students in school Thursday and Friday. This would have left all students out of school on Wednesdays.
While at the yellow level, there will be in-person instruction, with masks required in all indoor spaces, according to the website. Pre-K through third-grade students now will be allowed to remove masks in the classroom at the teacher's discretion. 
Other protocols the district will follow include limiting building and campus visitors, following health orders and protocols such as screenings, social distancing and hand washing and limiting buildings and campuses to public events.
Chisholm Public Schools' re-entry plan has a much wider case per 100,000 threshold: Its yellow, low-risk level ranges between 5 and 35 cases. Orange is between 35 and 50, after which the district would transition to red and then move to an alternative learning schedule. 
Chisholm's plan eliminates the second orange sub-level (between 25-50 cases) created for the DES' own alert system.
All of its students will start class Wednesday.
Chisholm also is not mandating masks until the orange level for all staff and students grades 4-12. Similar to Enid's existing yellow plan, in Chisholm's orange level, masks would be required in common areas for pre-K to third-graders, but with the option to remove them in class with the teacher's permission.
'The goal is the same'
On Wednesday, fifth-grade teacher Jennie Scott hadn't gotten started setting up her classroom at Garfield Elementary besides removing the bean bag chairs and moving desks into groups.
Pictures of different types of stories — fables, fairy tales and folktales are all different — posters of how to use a protractor, and stickers of words from the alphabet still sat on the walls, untouched since Scott's fourth-graders went to distance learning in March. 
Scott instead has been focused on preparing her Google Classroom website, dubbed Scott's Scholars, which all of her students will use when they return this week.
One of their first lessons is learning digital citizenship, taking an idea from their textbooks in class and then synthesize with information from several websites.
"It's not just, 'Log on and do this program for 30 minutes,'" Scott said.
Scott said she thinks her students will adapt easily to the technology.
"My son is now at the point where if I'm having a computer issue, I go to him with the question," she said. "The world itself has changed, so what we need to be teaching is how to use the tools today. … The goal is the same, but we're going to get there a different way."
Scott and other EPS teachers spent much of the spring and all of summer learning how to best use technology for the virtual learning and attended two tech-heavy professional development days last week.
Enid High School's new principal, Jennifer Cruz, said in an email the pandemic and last spring's distance learning threw educators, "full force, into those uncharted waters."
Cruz said parents should keep in mind that any changes or "hiccups" along the way will be kept to a minimum.
"Even if we have to go full distance learning for a time, we will still make every effort to keep our connections to students a priority, because we understand that students don't care what we know until they know that we care," she wrote. 
A study from McKinsey cited by the Centers for Disease Control and Prevention estimates an online education currently available is likely to be less effective than traditional, in-person schooling.
The same study also posits that learning loss will probably be greatest in lower-income, and Black and Hispanic children. 
Of Enid Public Schools' over 9,300 students in the 2018-19 school year, nearly three-fourths were reported as "economically disadvantaged" in the district's annual statewide report card. Over half of the district's students then were of a minority background, the largest group being Hispanic children, at 27.7%. 
---
The CDC announced last month it was in favor of opening schools this fall, saying the children don't suffer much from the virus, are less likely than adults to spread it and suffer more from school closures.
On Thursday, the CDC also advised school officials to prepare to close in case of a substantial virus transmission.
COVID-19 poses relatively low risks to school-aged children, CDC Director Dr. Robert Renfield said in July. 
"CDC does not currently recommend universal symptom screenings (screening all students grades K-12) be conducted by schools," the guidelines read. "Parents or caregivers should be strongly encouraged to monitor their children for signs of infectious illness every day," 
Statewide, children between 0-4 and 5-17 years old are the lowest age groups with reported cumulative cases, a total of just over 11%. One child, a 13-year-old girl in Comanche County, has died of COVID-19 in Oklahoma.  
Meanwhile, those in the 18-35 age group continue to lead the increase in new cases, according to OSDH.
Of Garfield County's 447 total cases, 121 are active, as of Saturday. Twenty-seven new cases were reported. Age group data for the county are not available, however.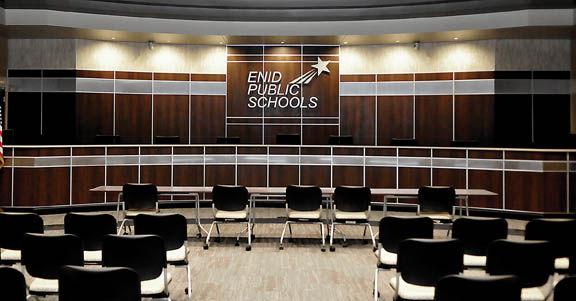 When Sara Reed didn't work for a month at her hair salon in Enid during the pandemic, she didn't have a problem with the change even though it hit her financially because "everyone understood it was all new." 
"But it struck a different chord when it's come to my kids now," she said.
Her three daughters — two in elementary and one starting high school — thrive on social interaction with their peers and teacher, and Reed said she hates to deprive them of that.
"My (youngest) daughter's been asking me when are we going back to school every day," Reed said. "She keeps saying, 'I just really want to give my teacher a hug and tell her I miss her.'"
On Monday, when EPS announced the alternate schedule, Reed started a Facebook group for parents, "Let our kids go back to school," which garnered 300 members in the first day and now totals over 600.
Two days later, she then started a petition to take to the EPS board that parents still want full-time, in-person learning, and over 115 parents have signed it so far.
She also said she knows at least 100 people have emailed Floyd saying they didn't agree with the A/B scheduling and/or don't agree with masks. which have proved a contentious issue of their own, as well.
In an email Friday announcing the return to fully in-person learning, EPS Superintendent Darrell Floyd said the district's board of education will decide Aug. 17 if and how to revise the plan — which would give parents like Reed and Hackworth more advanced notice, rather than a week at a time to figure out child care needs.
"We will look at the possibility of making revisions to our current plan that, if approved, would: provide more flexibility, provide longer periods of time for parents to plan ahead more appropriately," Floyd wrote. 
Any revisions would take effect Monday, Aug. 24, after the first full of week of school.
Reed said she plans to speak on behalf the parents who want to keep school at five days a week as long as possible, rather than the split scheduling (but still keep the virtual learning option, she said). 
Local parents, she said, want the district to be in the red (50 or more cases per 100,000) before schools return to total distance learning like last March.
In an email reply to Reed, which she posted a screenshot of to her Facebook group, Floyd wrote he would "probably recommend" something like Chisholm's re-entry plan to the board.
If the board looks at changes like Chisholm's plan, one would be widening the threshold of cases per 100,000. EPS, meanwhile, has criss-crossed the yellow-orange level threshold for the last three weeks, as OSDH data show.
For Hackworth, the single mother, all she wants to know is what to work on with her son, in order to plan needed long-term goals for his education.
"It goes deeper than what's going to happen the next two weeks," she said.