PILOT EJECTS: A pilot ejected from a military aircraft from Vance Air Force Base moments before it crashed in Oklahoma, with aerial footage showing the plane completely destroyed but the pilot reportedly conscious and alert. https://t.co/4DFPGPTEel pic.twitter.com/VzX56OMXEs

— World News Tonight (@ABCWorldNews) August 17, 2018
MUTUAL — A Vance Air Force Base pilot ejected before a T-38C jet crashed at 1:48 p.m. Friday near the town of Mutual in southern Woodward County. 
---
An aircraft crash has occurred approximately 50 miles west of Vance AFB. Pilot is conscious and with emergency responders. Follow #VanceUpdates for more information.

— Vance AFB (@71FTW) August 17, 2018
---
The instructor pilot was the only person on board and was performing a training mission before ejecting, according to a Vance press release. He was not seriously injured and was evaluated by Air Force medical personnel.
Oklahoma Highway Patrol personnel told the Woodward News the pilot reported experiencing sudden engine trouble. He was unable to restart the plane's engines and had to eject around 2,000 feet.
Vance emergency response personnel were on site by 4 p.m., and have started an accident investigation. OHP brought in a helicopter to help search for the parachute and ejection seat.
The plane crashed about 70 miles west of Vance in the Mutual-Chester area. The aircraft was a total loss. The wreckage and the pasture where it landed burned, and firefighters from Woodward, Sharon, Mutual and Mooreland responded.
Until Friday, Vance hadn't suffered a Class A mishap since Sept. 8, 2000, an Air Education and Training Command record. A Class A mishap involves loss of life or loss of an aircraft.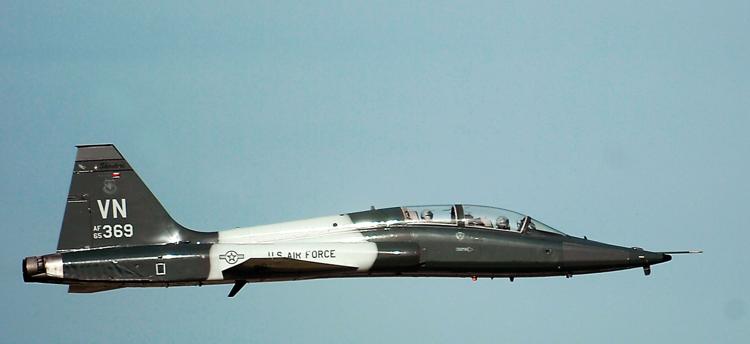 The T-38 Talon is a "twin-engine, high-altitude, supersonic jet trainer used in a variety of roles because of its design, economy of operations, ease of maintenance, high performance and exceptional safety record," according to an Air Force fact sheet.
The Talon is used by Air Education and Training Command for specialized undergraduate pilot and pilot instructor training, according to the Air Force. Student pilots at Vance have flown T-38's since December 1963. Students in the fighter/bomber track fly the Talon.
The Air Force is the process of choosing a replacement for the T-38, although no contract has been awarded yet.