ENID, Okla. — Two more cases of COVID-19 have been reported in Garfield County, as the number of positive tests in the state rose to 720, with 30 deaths, according to the state health department on Wednesday, April 1, 2020.
Also Wednesday, Woodward County Health Department and Oklahoma State Department of Health announced the first confirmed COVID-19 case in Woodward County.
Public health officials are working to conduct an investigation and identify any close contacts who may be at risk.
"We are all in this together," said Regional Director Terri Salisbury, "In order to get through this, it is very important for people to stay home and only go out for essential errands such as groceries or medical supplies. We need everyone to help us by doing their share of social distancing."
Garfield, Woodward and Texas counties are the only Northwest Oklahoma counties with positive tests recorded by the Oklahoma State Department of Health.
Forty-nine of the Oklahoma's 77 counties are reporting cases, with 219 hospitalized, according to Oklahoma State Department of Health. There have been 1,248 test negative for COVID-19 through the OSDH State Public Health Laboratory.
Both St. Mary's Regional Medical Center and Integris Bass Baptist Health Center each have reported 1 case of COVID-19 under isolated treatment at their facilities.
Garfield County Health Department cannot release information concerning those in the county who have COVID-19, due to state and federal privacy requirements, said Maggie Jackson, OSDH regional director of community engagement and health planning.
Health department officials are in contact with those residents who are confirmed positive to monitor their health and advise them concerning the virus, she said.
"We investigate potential contacts and advise them on isolation and reducing the risk of infecting others," she said, adding the Garfield County Health Department and its partners are "committed to doing all we can to protect the community."
"We are working with our partners to facilitate further testing, educating the public how to reduce the risk of infection and transmission, facilitating dissemination of limited PPE and advocating for each individual to protect themselves and their loved ones from COVID-19," Jackson said.
Several business and organizations in Enid have closed to the public in an attempt to stop the spread of the deadly virus. St. Mary's has set up a tent in front of its emergency department to screen non-emergency patients, staff and physicians. Integris Bass Baptist Health Center currently is screening patients in its Emergency Department, its main lobby and via curbside check-ins at its Medical Plaza, a hospital spokesperson said Tuesday. Curbside check-in is being implemented at Bass' heart and vascular, urgent care and OB/GYN facilities.
Local health and emergency officials are urging residents to stay in their homes or isolated as much as possible. Some exceptions include grocery shopping, health appointments or essential work.
A local bar owner recently was fined for violating the city of Enid's emergency management plan in response to the COVID-19 health emergency. Enid police say they are asking businesses and residents to abide by the declaration.
State numbers
The number of positive tests in Oklahoma increased by 154 in one day, according to Wednesday's status update by OSDH.
The latest deaths announced by OSDH on Tuesday are a man and woman in the 50-64 age group in Mayes and Oklahoma counties, respectively; three men older than 65 in Kay, Oklahoma and Osage counties; and two women older than 65 in Greer and Oklahoma counties.
Of those who have died, 21 have been older than 65, 8 have been in the 50-64 age range and one has been in the 36-49 age range. Deaths have been Canadian, Cleveland, Creek, Greer, Kay, Mayes, Muskogee, Oklahoma, Osage, Pawnee, Sequoyah, Tulsa and Wagoner counties, OSDH reports.
Ages of patients range from 0 to 96 years old, with a median range of 58. There are 6 in the 0-4 range, 9 in the 5-17 range, 111 in the 18-35 range, 138 in the 36-49 range, 194 in the 50-64 range and 261 in the 65 and older range, according to OSDH. Of those testing positive, 364 are female and 355 are male. 
Positive tests per county in the state are 192 in Oklahoma County; 115 in Tulsa County; 87 in Cleveland County; 27 in Creek County; 24 each in Kay and Canadian counties; 23 in Washington County; 21 in Comanche County; 19 in Osage County; 16 in Payne County; 15 each in Pawnee and Wagoner counties; 13 in Muskogee County; 9 in McClain County; 8 in Adair and Delaware counties; 7 each in Cherokee, Garvin and Ottawa counties; 6 each in Pottawatomie and Stephens counties; 5 each in Lincoln, Mayes, Noble, Nowata and Pottawatomie counties; 4 each in Custer, Garfield, Logan, Okmulgee and Rogers counties; 3 in Grady County; 2 each in Craig, Greer, Jackson, Latimer, Pittsburg and Sequoyah counties; and 1 each in Beckham, Bryan, Caddo, Carter, Choctaw, Cotton, LeFlore, Love, Seminole, Woodward and Texas counties, according to OSDH information released Wednesday morning.
Drive-through testing
Garfield County Health Department will host a drive-through testing clinic 10 a.m. to 2 p.m. Friday at Chisholm Trail Expo Center, 111 W. Purdue.
Supplies are limited, and tests will focus on individuals at highest risk.
In order to be tested you must be 18 years old or older, and have fever greater than 100.4 degrees, and a cough or shortness of breath.
Only one person per household will be tested, and only one person per vehicle will be tested.
The Health Department advises people to not come for testing if they have been in contact with a person who has been diagnosed with COVID-19 within the last 14 days.
The testing clinic is offered in partnership with the city of Enid, Enid and Garfield County Emergency Management, Garfield County Sheriff's Office, Life EMS and other community partners. The clinic may close earlier than planned, depending on the availability of supplies. 
Drive-through testing sites will be open Wednesday through Friday, April 1-3, at Woodward, Altus and Lawton, according to OSDH.
• 10 a.m. to 1 p.m. at the Woodward County Event Center.
• 10 a.m. to 2 p.m. at the Western Oklahoma State College, Altus.
• 2-4 p.m. at the Urgent Care Clinic, 3811 W. Gore, Lawton.
Criteria for testing at these sites include individuals who are 18 or older; not having close contact, within 6 feet, of anyone who has tested postive in the last 14 days and who are experiencing a fever greater than 100.4 and a cough and shortness of breath. Only one specimen per household is allowed. 
Testing is also available at the Oklahoma State Fairgrounds from 9 a.m. to 3:30 p.m. with a physician referral and by appointment only.
Drive-through testing sites were established in Kay, Oklahoma, Pittsburg and Tulsa counties last week, as a result of a cross-county, city and state health system partnership, according to OSDH. 
Screenings in Kay and Pittsburg counties are by appointment only. Supplies are limited, and testing is reserved for those who are considered vulnerable or are showing symptoms of fever, cough and shortness of breath. Instructions for drive-up service will be provided when an appointment is made. Testing sites are at 433 Fairview Ave, Ponca City, (580) 762-1651 in Kay County, and 1400 E. College Ave., McAlester, (918) 423-1267 in Pittsburg County.
In Tulsa County, screenings will be by appointment only at the drive-through site. Vulnerable populations who are under- or uninsured should call the Tulsa Health Department for a phone screening. Insured patients need a referral from a health care provided. Instructions will be given at the time appointments are made. Call (918) 582-9355 for information.
In Oklahoma County, residents must be screened for COVID-19 by a medical provider and referred to the mobile testing site.
The testing sites will allow the state's medical professionals to gather public health data, outside of the hospital setting, while determining the projected capacity needed for effective COVID-19 testing throughout Oklahoma, according to an OSDH situation report.
OSDH also launched a website Friday to coordinate corporate donations across the state to get "critical protective equipment to health care professionals who are on the front lines of delivering COVID-19 care," according its situation update email on Saturday. The site is at https://ppedonation.ok.gov/.
"With the number of cases rising each day, the OSDH urges the public to follow the Governor's 'Safer at Home' executive order advising vulnerable populations and those over the age of 65 to stay home until April 30 and for non-essential businesses in counties with COVID-19 cases to temporarily suspend services until April 30," the report states. "The CDC also recommends the public to stay home, practice social distancing, hand washing, and specifically for those who are sick to isolate for up to 14 days."
State supplies
By the end of Monday, the state received more than 60 percent of its personal protective equipment (PPE) order, including gloves, gowns face/eye protection and masks, from the federal government's Strategic National Stockpile, and the state expects to be at 100 percent in the next few days, according to the OSDH.
On Sunday, officials moved 700 cases of protection equipment to regional warehouses established to resupply medical system providers. OSDH reports because of a national shortage, all gear from the Strategic National Stockpile will be reserved for hospitals that have ICU beds and persons who have tested positive or are under investigation for COVID-19.
Officials anticipate larger shipments of PPE, to include additional N95 masks, in the next week from the private market.
Gov. Kevin Stitt on Sunday evening issued a sixth amendment to his executive order that now requires travelers from six states — New York, New Jersey, Connecticut, California, Louisiana, and Washington —  to self-quarantine for 14 days.
The order also requires delivery personnel to submit to screenings when making deliveries at hospitals, clinics, long term care facilities and daycares and protects health care workers and their families from discrimination in housing or child care.
All 77 of Oklahoma's counties fall under Stitt's "Safer at Home" order until April 30 that bans gatherings in groups larger than 10 and calls for people older than 65 and those with a compromised immune system stay home. Individuals who need to undertake essential errands, such as grocery shopping and picking up medication, may do so.
Law enforcement in some cities, including Oklahoma City, Tulsa and Norman, have been asked to enforce the governor's order and shelter-in-place policies, according to OSDH.
Resources and information on COVID-19 can be obtained by calling 211 or going to https://covidresources.ok.gov/.
Testing supplies
Although global supplies for testing are still limited, Garfield County Health Department has plans in place to operate a satellite testing site as soon as supplies are made available, said Maggie Jackson, Oklahoma State Department of Health regional director of community engagement and health planning.
"The Garfield County Health Department will continue to investigate COVID-19 cases and work to prevent COVID-19 outbreaks in our community," Jackson said. "We ask that our neighbors continue to stay home and do their part to prevent the spread of COVID-19 to our most vulnerable citizens," Jackson said.
On Friday, the state announced procuring 10,000 COVID-19 test kits but will continue to prioritize its public health supply for Oklahomans who already are hospitalized or classified as most vulnerable to the virus.
Enid emergency
Also on Friday, Enid Mayor George Pankonin signed an amended emergency declaration that took effect Saturday night, including a stay-at-home order, closure of non-essential businesses and closure of city of Enid facilities.
"I anticipated that a positive test result was imminent, so I upgraded our Emergency Declaration on Friday," Pankonin said after being notified about Garfield County Sunday morning. "Now that we have in fact had a positive test result, I will review our current declaration to determine if more should be done to proactively protect the public and amend the proclamation as necessary. I will meet with health care experts, city staff and other leaders (Monday) and make changes as necessary."
In a Saturday Facebook post, Enid Police Department said citizens will benefit from voluntarily complying with the rules set out by the city's emergency declaration, the governor's executive orders and the president's coronavirus guidelines for America.
"While it is true that the Enid Police Department has the authority to enforce these rules, we are asking for everyone to pull together and take the necessary precautions," EPD posted. "We all, every citizen in Enid and Garfield County, want the same thing and it can only happen if we work together."
EPD said it has no plans to conduct checkpoints or traffic stops to inquire about a citizen's "papers."
"We've heard that some businesses are giving documents to their workers to validate their employment at essential businesses," EPD posted. "That may be the case, but at this point we aren't going to ask and it isn't required.
"Please stay at home unless absolutely necessary. If the grocery store is busy shop another time, limit your risk and the risk to others. Follow social distancing guidelines, check on your neighbors and the elderly, stay healthy, and wash your hands."
On March 19, Garfield County commissioners passed an emergency declaration for public access to the Garfield County Court House and all other Garfield County facilities.
"We have taken precautions at the jail by limiting public access and screening the jailers and new arrestees," Sheriff Jody Helm said Sunday. "Luckily, we don't have any sickness at the jail as of right now. The jail has K95 masks and surgical masks and are disinfecting routinely. The Sheriff's Office has done the same as far as limiting access along with disinfecting, we are still answering calls but are following social distancing when possible while using masks.
"It was inevitable that Garfield County would get COVID-19 at some point, and It seems Garfield County Is doing a good job taking this seriously. Keep all first responders and medical staff in your thoughts and prayers because they are the heroes in this difficult time."
Enid hospitals
Enid hospitals said last week that they are testing for COVID-19 based on criteria established by the CDC.
"Testing kits are available and St. Mary's Regional Medical Center is testing patients who are symptomatic and meet testing guidelines," Boyd said. "Laboratories are prioritizing results, with hospitalized patients symptomatic with COVID-19 processed first."
Integris Bass has been and is testing patents for coronavirus in accordance with the same testing guidelines, said Tania Warnock, marketing project lead.
Both hospitals have reported they currently are treating one patient each who has tested positive for COVID-19 and who is in isolation.
Criteria for testing is based on the CDC clinical criteria, she said, which include hospitalized patients and symptomatic health care workings as priority 1; patients with symptoms who are in longterm care facilities, 65 years or older, underlying conditions and first responders as priority 2; and critical infrastructure workers with symptoms, individuals with symptoms, health care workers and first responders and individuals with mild symptoms in communities experiencing a high number of COVID-19 hospitalizations as priority 3.
Persons without symptoms are considered non-priority based on CDC guidelines.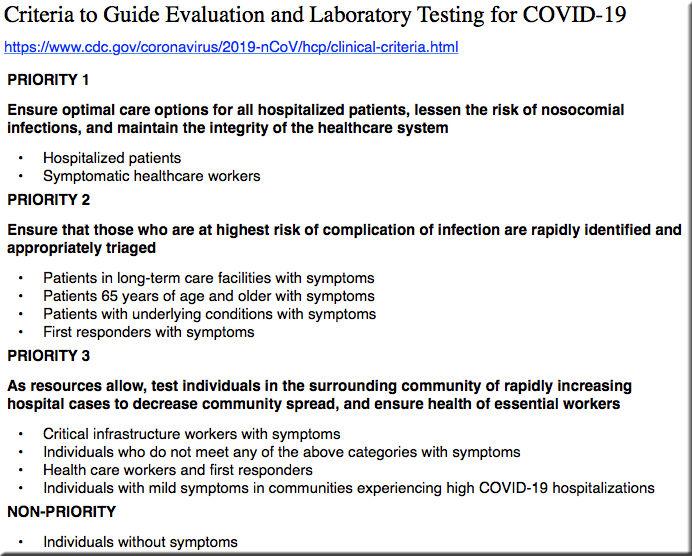 Those developing symptoms such as fever, shortness of breath or cough should contact their medical professionals or call the COVID-19 Call Center at (877) 215-8336 or 211 for assistance.
"Patients are encouraged to consult their physician or public health professional about their symptoms such as fever, cough or shortness of breath. Clinicians may recommend testing for other respiratory illnesses, including flu, before recommending a COVID-19 test," according to the OSDH website. Those who are uninsured an call 211 for community resources.
Statewide actions
Governor Kevin Stitt announced during a press conference Tuesday afternoon that all non-essential businesses in 19 counties must close by the end of Wednesday, March 25.
The closures are part of a series of sweeping actions to curtail the spread of COVID-19 in the state as the number of cases and deaths continued to tick upward. Stitt also banned all gatherings of 10 or more statewide and ordered all elderly and vulnerable Oklahomans to stay home until April 30. He suspended all elective and non-emergent surgeries.
COVID-19 is a virus identified as the cause of an outbreak of respiratory illness first detected in Wuhan City, Hubei Province, China, in late-2019. Cases of the virus have since spread globally into a pandemic. Symptoms of COVID-19 include fever, cough and shortness of breath. While roughly 80% of cases report mild symptoms, some progress into severe pneumonia and multi-organ failure that can led to death, according to information on the OSDH website.
"Current data indicates the risk of death for those contracting COVID-19 notably increases for individuals above the age of 60 or for individuals with autoimmune conditions," according to OSDH.
On January 11, 2020, the first set of individuals in the United States tested positive for COVID-19. The virus has since spread across all 50 states, and the number testing positive continues to increase.
On Sunday, March 22, 2020, Gov. Kevin Stitt announced the Governor's Solution Task Force — a multiagency group of experts and support personnel to enhance Oklahoma's comprehensive response to the coronavirus pandemic.
Stitt said goals include protecting the health and lives of Oklahomans, mitigating economic impact and initiating a full recovery effort.
Meanwhile, the Oklahoma National Guard activated the Joint Task Force at the Oklahoma National Guard Regional Training Institute in Oklahoma City.
Comprised of members of both the Oklahoma Army and Air National Guard, that task force is laying groundwork for possible support missions, said Brig. Gen. Tommy Mancino, executive director of the Oklahoma Military Department and the Oklahoma National Guard assistant adjutant general.
---
---
BREAKING NEWS on the COVID-19 threat and its impact is available at https://www.enidnews.com/virus and is free for all readers. That includes information on closings and cancellations.
Get full-access breaking news via text alerts at https://enidnews.com/textalerts.
•• For more local, state, national and global COVID-19 pandemic news, go to https://enidnews.com/news/covid19.
•• All breaking news is fully accessible on the Enid News & Eagle website.
•• Information also can be found at https://coronavirus.health.ok.gov/ and https://www.cdc.gov/.