ENID, Okla. — All Enid Public School students, teachers and staff will be required to wear masks when going back to school, following the state's COVID-19 safety protocol recommendations.
The vote, which the EPS Board of Education passed unanimously Tuesday, expands last week's decision to require students wear masks in all public areas outside of classrooms when they return to school Aug. 13.
Per the state re-entry plan, however, pre-K through third-graders may remove their masks in class if the teacher allows them. The state allows exemptions for masks, which are on the Oklahoma State Department of Education website.
The state board last Thursday voted down Superintendent Joy Hofmeister's proposal that would have mandated a statewide school reopening plan, instead turning it into a recommendation that would leave safety protocol decisions such as mask mandates up to districts.
EPS Superintendent Darrell Floyd called the district's special meeting to recommend following the state's recommendation, which uses the Oklahoma Department of Health's color-coded county model. All of the board members and school and health officials wore masks during Tuesday's meeting.
As confirmed cases of the virus increase, the system raises from green level to yellow level, orange level 1, orange level 2 and up to red level, based on a county's population density with the number of positive cases per 100,000 people.
Like many counties in the state, Garfield County is in the yellow "at-risk" level — where there are more than 1.43 COVID-19 cases per 100,000 people in the county where the district is located.
In yellow level, Oklahoma schools are recommended to require masks for teachers/staff and all students (though pre-K to third-grade students may remove them in class); restrict visitors; and are recommended to limit public events in buildings and campuses.
Cloth face coverings are recommended for children by both Centers for Disease Control and Prevention and American Academy of Pediatrics to fight the spread of COVID-19.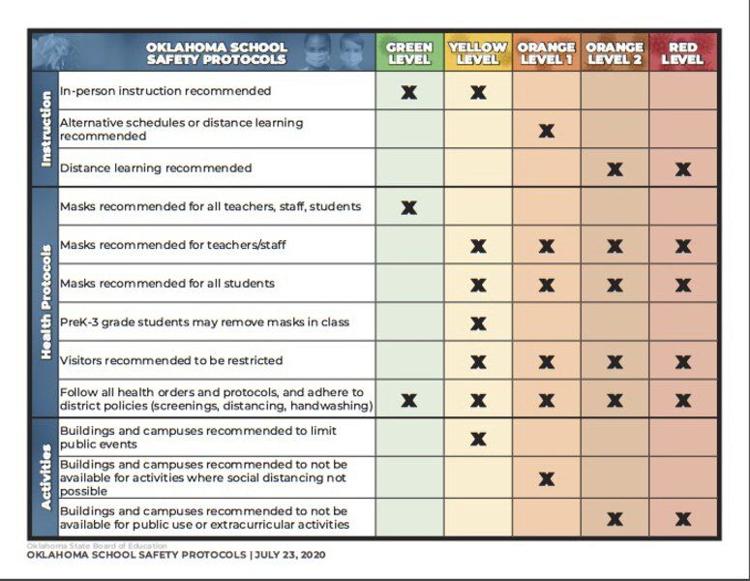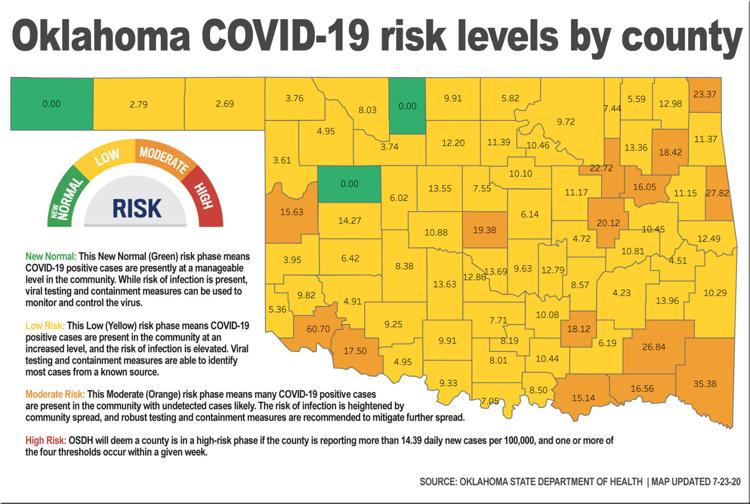 The district has purchased two cloth face coverings for every student, teacher and staff member, as well as disposable paper masks as needed for visitors or students. For example, should a child go on the bus and not have their mask, they will be given a paper mask.
More than $200,000 has been spent on cleaning supplies, face masks, paper masks and face shields, Floyd said during Tuesday's meeting.
Randall Rader, assistant superintendent of elementary education, also clarified the district's re-entry plan includes two learning options for students, rather than three: on-campus/blended and virtual learning.
Elementary students must remain in the virtual learning pathway for at least the full semester; secondary students will remain in virtual for either the semester or full year.
Pre-K to second-grade students will use the online Seesaw learning platform, and 3rd- through 12th-grade students will use Google Classroom. Pre-K to eighth-grade students also will have access to Istation, an adaptive reading and math curriculum.
The brick-and-mortar learning includes the blended learning in the case of a possible switch to distance learning, said Jane Johnson, EPS director of HR and communications.
According to the state plan recommendation, distance learning will be required if Garfield County were to move into orange level 2, when a county has between 25 and 50 cases per 100,000.
Whether the move to distance learning would be districtwide or school/classroom-specific is unclear for now and would depend on future recommendations from Garfield County Health Department, Johnson said.
Health concerns
Parents are asked to check their child's temperature each day before school and to complete their child's yearly health form.
If a student has fever at or more than 100 degrees at school and then is tested for COVID-19, they will be kept in an isolation room in the school health office and given a tie-able surgical mask. All students with a fever must remain home for 48 hours, and any student who tests positive for COVID-19 must be quarantined for 14 days.
Karry Easterly, EPS elementary head nurse, said nurses will first check for further symptoms to determine a possible COVID-19 case and communicate with GCHD's communicable disease nurse.
Maggie Jackson, with GCHD, said having a fever of 100.4 is indicative of having COVID-19, but that children still can be asymptomatic or pre-symptomatic.
Teachers will be required to keep classroom seating charts so school nurses can complete contact tracing with Health Department officials.
Jackson said if a positive case in a small, contained classroom was closer than 6 feet for more than 15 minutes of possible exposure, students, parents and teachers would be asked to quarantine as possibly high-risk cases while awaiting testing. Siblings of students who test positive also would have to be quarantined once they were tested positive, too.