Nearly a month after extending Enid's public mask mandate, city commissioners appeared to shift gears Tuesday night by deciding to cancel it.
A close, 4-3 decision came down to Mayor George Pankonin casting the deciding vote to rescind the mandate about six weeks ahead of its April 30 expiration date.
Commissioners Jerry Allen, Derwin Norwood and Rob Stallings also voted to rescind the declaration, which was first passed in early December then extended in mid-February, while commissioners Ben Ezzell, Jonathan Waddell and Jeff Funk voted against it.
The rescinding did not appear to gather much fanfare at Tuesday's commission meeting, contrasted with the four previous meetings when masks took center stage. Dec. 1's approval meeting included four hours of commissioner discussion and public comment.
Commissioners did not discuss the topic before they voted, while only two people had signed up to speak about it in public comment.
Do you agree with the city of Enid's commission decision to rescind the mask mandate in Enid?
Lucille Pitt said she couldn't understand why so many people were against wearing a mask.
"I just think that we need to have mandatory masking here in Enid until we get a better handle on the virus," she said. "It's a simple thing to do."
Kevin Copenhaver quoted from the Bible in asking those in the community and the commission to treat each other with kindness.
"There's some people that say they're for the mask, they're not for the mask. There's some that are getting vaccinated and some (that aren't). There's some that are Democrat and some that are Republican," Copenhaver said. "But what's important is to remember that we will see each other in the community in activities pretty soon. … I sure hope we don't become where we want to jump on the other side of the street because we don't like that person."
Later that night, most of the public comment — many of whose speakers had not signed up before, but asked to address the commission before taking the podium — instead centered on an ordinance proposed by commissioners Ezzell and Waddell that police officers collect demographic data in all significant interactions.
Bird scooters coming to town
Commissioners also on Tuesday passed a traffic law ordinance change about electric scooters that would carry a maximum $100 fine for violations.
Any electric scooter can be used on city sidewalks, bike lanes and paths, and the Enid Trails System, as well as on any streets with a maximum speed limit of 25 mph.
City Attorney Carol Lahman said state law would limit riders from driving scooters down major roads such as Van Buren and Garriott, which are state highways, though not across them through intersections.
"If there is a bike lane, (riders) should travel in the bike lane. If there isn't a bike lane, and there are two lanes, they should travel on the right lane unless they are getting ready to make a left turn," City Attorney Carol Lahman said during a study session.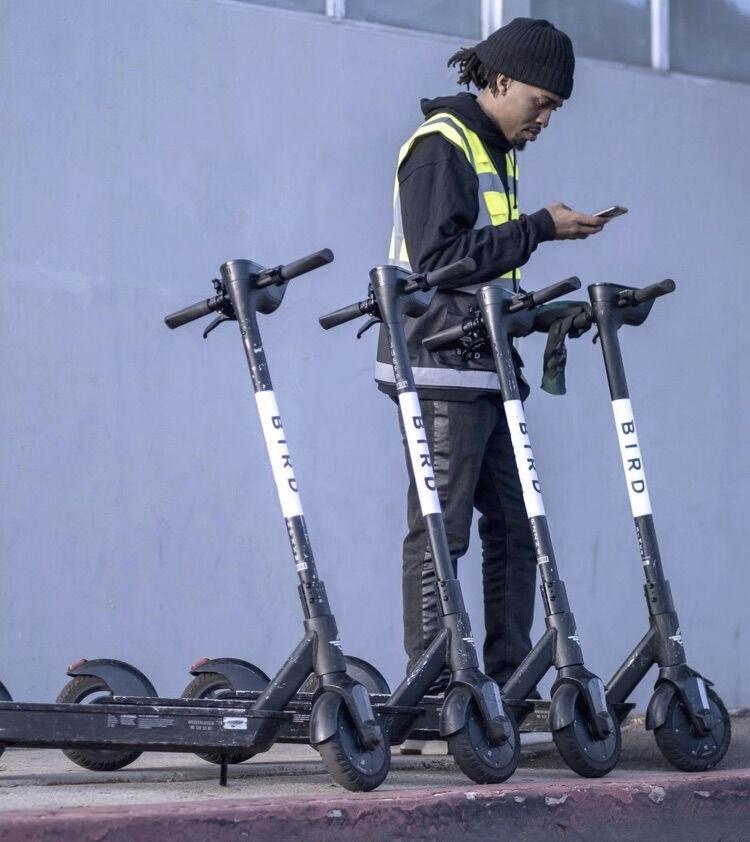 Riders must wear helmets when riding a scooter, which must be equipped with lights to be operated on roadways. Scooters cannot be left in the right of way longer than 24 hours.
Neither a driver's license nor proof of casualty insurance is required to ride an electric scooter in the state of Oklahoma.
The ordinance comes ahead of the city beginning its contract with Bird Rides Inc., which would provide a fleet of 100 stand-up electric scooters available to rent in downtown Enid.
Each ride costs $1 to start by using an app from Bird, with a fee of 30 cents per minute, Bird staff said in a meeting last month.
This contract, which doesn't cost the city of Enid any money, goes into effect April 15 and expires April 2022.
Using an app from Bird, riders at least 18 years of age will be able to rent the scooters between 4 a.m. and midnight. As per existing city code, only one rider is allowed per scooter.
Under the new ordinance, rented scooters will be picked up for maintenance service, charging and relocation within 36 hours of the completion of their use.
City Manager Jerald Gilbert said Bird has hired a contracted fleet manager responsible for these duties.
Bird would set up an invisible geofencing area around non-permitted areas, such as Vance Air Force Base and beyond city limits, once the ordinance change had been approved, Gilbert said.
The city would be liable for injury or damages if a scooter rider hits a crack in the pavement and the city already had notice of the road damage, Lahman said.