ENID, Okla. — Two years ago, Sandy Schapansky was busy with work and in her personal life, so she put off her yearly mammogram for a few months to let things slow down.
Then, the COVID-19 pandemic hit, so she put it off even longer — until she felt an unusual lump in her left breast in September 2020.
Schapansky, a certified medical assistant at Integris Women's Health Enid, immediately scheduled a mammogram, and soon after, on Oct. 2, 2020, she received her diagnosis: stage three breast cancer.
After having a lumpectomy and receiving chemotherapy and radiation therapy treatments throughout the past year, Schapanskly got the news that she was cancer-free on Thursday, and she is encouraging others to get their annual mammograms and to know their bodies.
"If you get your mammograms consistently, and you know your breast tissue, you have a better chance of being on top of the diagnosis early," Schapansky said. "Somewhere in that timeframe when I skipped, that's when my cancer came on. Had I just gone ahead and gotten that mammogram ... that could've given me a heads-up, and maybe it wouldn't have been in my lymph nodes."
Melanie Hutchinson, a physician at St. Mary's Family Medicine North, said because of COVID-19, a lot of people had put annual check-ups and screenings such as mammograms on the back-burner.
Now, she said, it's time to start getting back into a normal routine of getting those yearly screenings and visits with your doctor.
"Keeping up on your routine screenings is how we catch diseases early," Hutchinson said.
According to the American Cancer Society, breast cancer is the most common cancer diagnosis among women in the United States, and there is a 1 in 8 chance that a woman will develop breast cancer sometime in her life.
Ryan Royal, manager of Radiological Services at Integris Bass Baptist Health Center, said because October is Breast Cancer Awareness Month, patients often get the reminder to schedule their annual mammograms.
Royal said because of that, the number of mammograms performed typically increases during the month of October, so Integris Bass is scheduling appointments for mammograms every Saturday this month to help give patients more availability.
"(Breast Cancer Awareness Month) rings the bell, so to get everybody in this month, we opened up Saturdays," he said. "October hits, and ... it reminds them, so it's just a good month to get it in."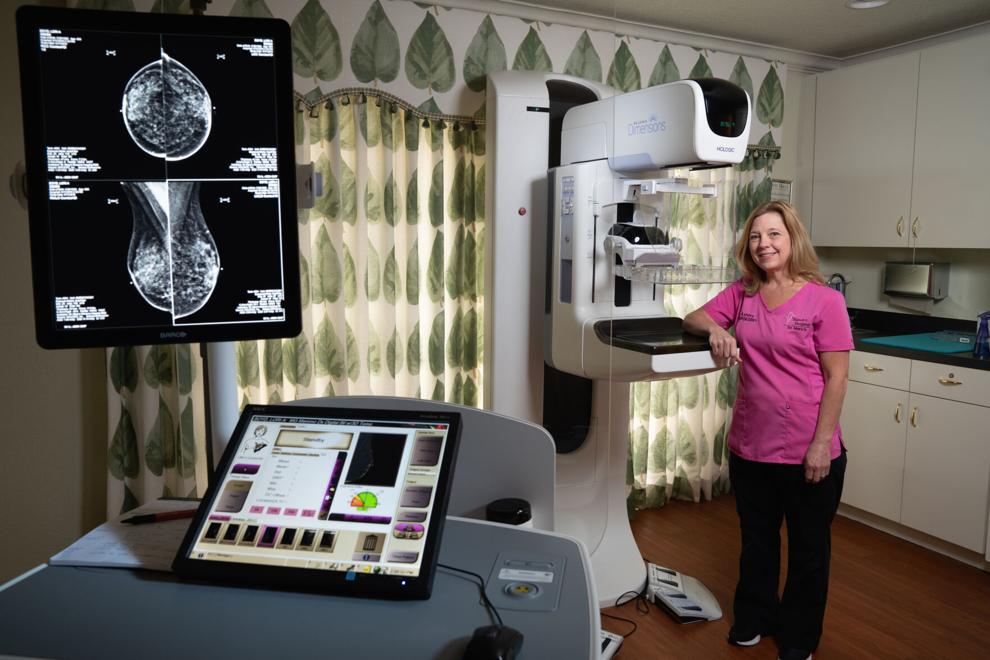 Hutchinson said the older women get, the more likely they are to develop breast cancer, which is why she said yearly mammograms should be discussed at age 40 and initiated no later than age 50.
According to the ACA, women ages 40 to 44 should have the choice to start annual breast cancer screening with mammograms if they wish, and women ages 45 to 54 should get mammograms every year. Women 55 and older should switch to mammograms every two years or can continue with yearly screening.
National Breast Cancer Foundation encourages adult women of all ages to perform breast self-exams once a month, stating that the breast self-exams can help people to be familiar with how their breasts look and feel so they can alert health care professionals if there are any changes.
Twenty-five years ago, Schapansky discovered an abnormality in her right breast. It turned out to be microcalcifications, which are small calcium deposits that look like white specks on a mammogram.
Schapansky said that being aware of her breast tissue made the lump she discovered in her left breast two years ago concerning.
"I think women need to know their breasts," Schapansky said. "They should not feel awkward about doing a breast exam and knowing that tissue."
It's important for people to know their bodies, Hutchinson added.
"As far as breast self-awareness and knowing, 'OK, this is new. I've never felt this before. I have a new mass. I have a change in pain. I have a different discharge,' — those would all be reasons to ... to see a provider and talk about what kind of breast imaging is appropriate," Hutchinson said.
Medicare, Medicaid and most insurance companies cover the cost of mammograms, and both Integris Bass and St. Mary's promote breast cancer awareness year-round and offer a variety of services.
St Mary's Women's Imaging Center, 316 W. Garriott, offers 2D and 3D digital mammography; Invenia Automated Breast Ultrasound System; bone density assessment; breast biopsy; and resources for breast cancer patients. For more information, or to make an appointment, call (580) 249-3770.
Integris Bass offers Senographe Pristina integrated 3D mammography, and the hospital's diagnostic capabilities include digital mammography; breast MRI; and stereotactic breast biopsy. To schedule an appointment, call (580) 548-1700.
"It's a simple, quick and easy task to stay on top of," Royal said.