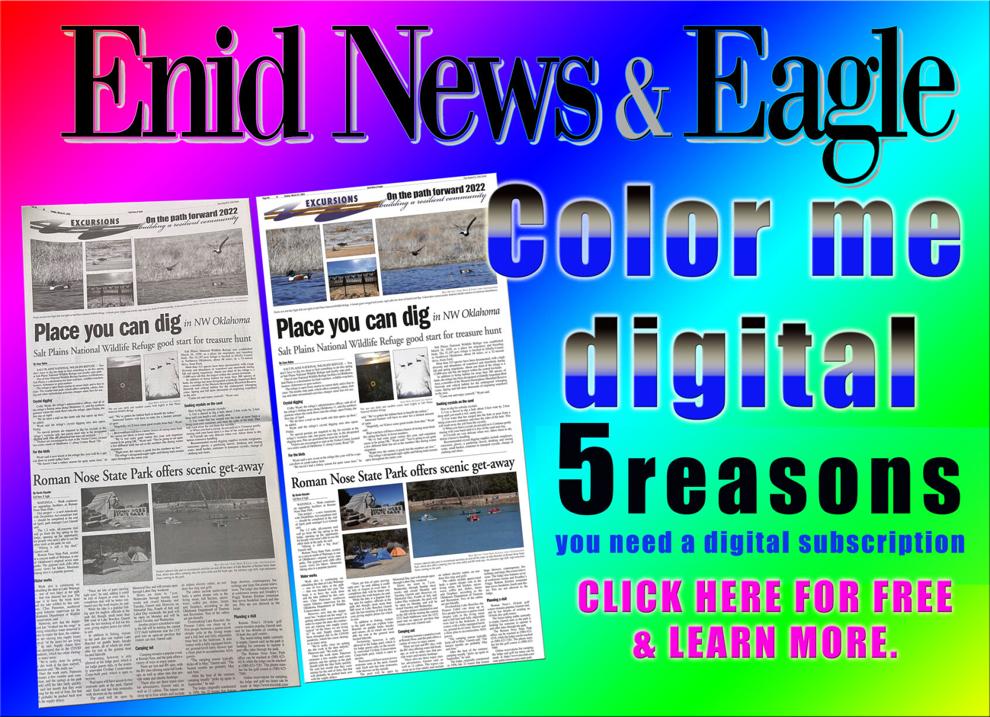 The Enid News & Eagle is the best place to receive your news, sports and entertainment information the way YOU want to receive this information.
With a subscription to the Enid News & Eagle, you are not only supporting local journalism, but you are learning more about and engaging with the local community. Our staff works hard reporting news that is important to our community.
Here are the top reason you should subscribe to the Enid News & Eagle.
1. Subscribers get access to everything we publish
You don't have to worry about running out on your limit of free stories. You will have complete access to in-depth reporting, coverage of community events, local and national sports and analysis of the top news events of the day.
Additionally, you can go back and find past editions of the Enid News & Eagle through our digital archives. These pages are also downloadable and printable.
2. Full-color Enid News & Eagle E-Edition
Even if you don't take the print edition, our E-Edition gives you the full experience of reading a printed newspaper on your computer, phone or tablet.
Our E-Edition is in full color, and it often features bonus pages of extra content, such as the Olympics standings and extra sports pages. Advertisers can also take advantage of having advertisements in the E-Edition only. You also get E-editions of Parade Magazine, Spry, the monthly In Loving Memory section and more.
You can find the E-Edition button at the top of our regular website at enidnews.com.
3. Get text alerts on the news that is of most interest to you!
Through our Enidnews.com app, you can sign up to be notified of breaking news while it happens. You can also get weather alerts and other alerts about news as it happens. You can sign up to see the latest on topics that you care about, such as sports or entertainment.
4. Get your latest information on local, state and national news through our email newsletter
Do you want your news to come straight to your inbox? Each day you will receive an email newsletter that provides you the top stories in that day's edition.
5. Support local journalism
Enid News & Eagle journalists and editors live in Enid and northwest Oklahoma. We produce stories and content that provide our readers with relevant, reliable and responsible information. We believe that a community newspaper is important in holding government officials accountable. We also work to provide our readers interesting information about their community and the people who live here.
The local newspaper is an important connection to the community for our readers. The best way to keep our newspaper supporting Enid and Northwest Oklahoma is to subscribe. You can get total access to both print AND digital for as low as $23.99 a month.
Find all the ways to subscribe by clicking this link.