ENID, Okla. — A Christmas tree taller than the iconic Norway spruce that sits each year in New York City's Rockefeller Center will make its way to downtown Enid this holiday season.
The 140-foot-tall "Christ Tree" will likely be the tallest fresh-cut tree in the U.S. and the world, Enid entrepreneur Kyle Williams said during an announcement near the tree's future location Monday.
To be placed in the middle of West Park, south of the returning Holidays on Ice skating rink, the tree will be surrounded by 12 smaller trees and decorated with 20,000 lights and 10,000 ornaments.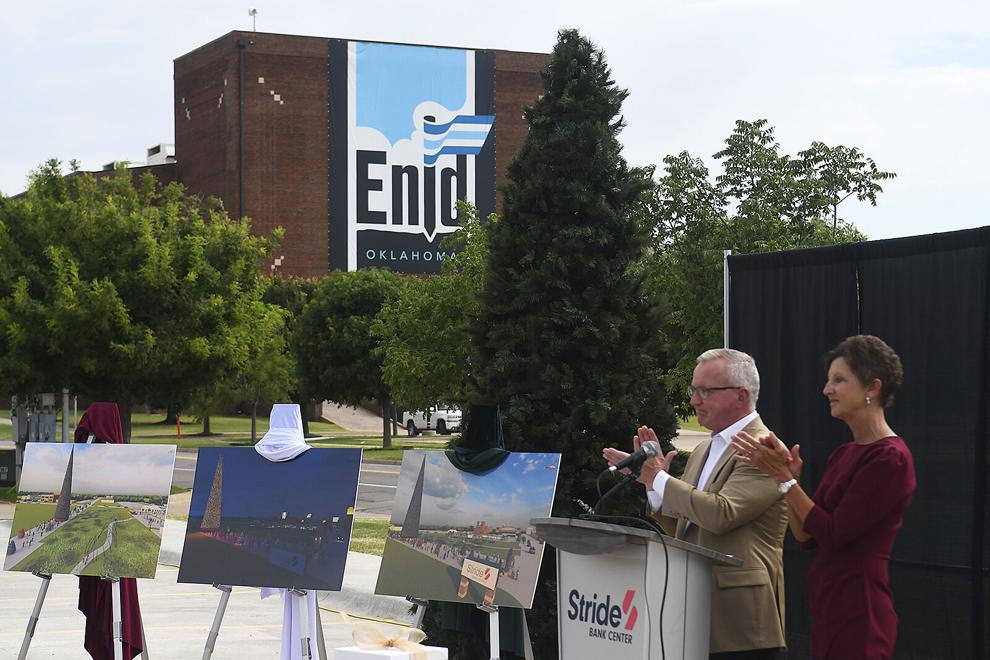 The Christ Tree will be the centerpiece of "The One," a 42-day event, sponsored by Williams's Jiffy Trip company, meant to remind the Enid community what he, his family and other organizers said Monday was the true meaning of the Christmas holiday — celebrating the birth of Jesus Christ.
Free public concerts, musicals, carols and other events organized by churches and individuals, including five services on Christmas Eve, will be held at the tree through Christmas.
The tree will be harvested 2,000 miles away from a group of trees marked for lumber in Shasta National Forest in California.
It will be lit during Main Street Enid's annual Enid Lights Up the Plains on Nov. 26, as a kickoff to The One event. The ice rink will open the week before, also sponsored by Williams' company and organized by Main Street, Stride Bank Center and the city.
"This year we are really, really going to light up the Plains," Williams said.
Main Street Executive Director Natalie Beurlot said the tree would complete the "holiday picture" downtown.
"You will be able to spend the evening admiring the beautiful 140-foot Christmas tree and participate in ice skating just a few steps away," Beurlot said.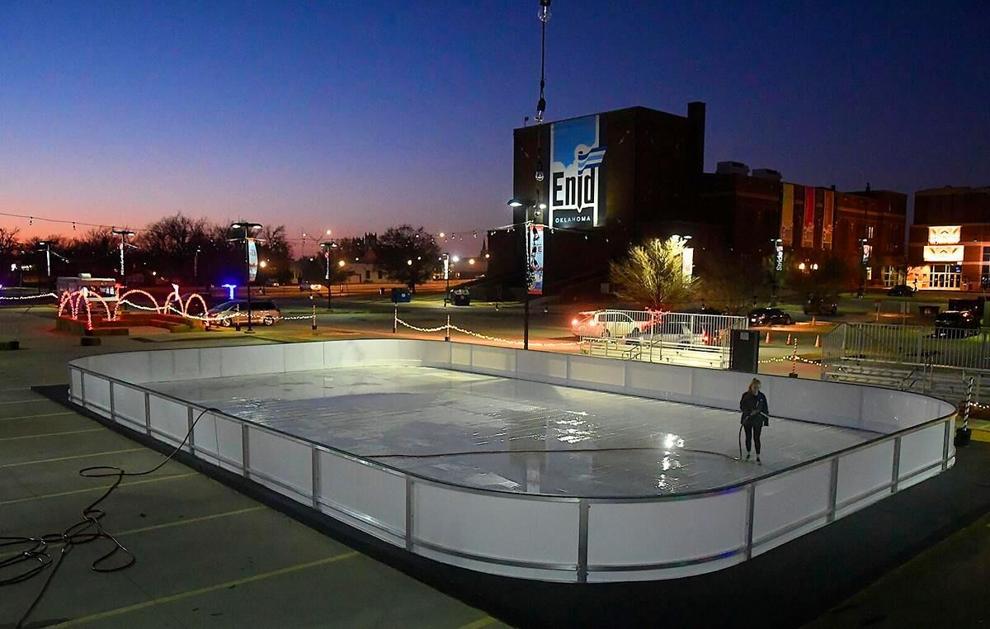 Dan Heath will lead an all-city choir featuring the Christ Tree's official, original song, "Hallelujah, You Are Here," written and to be performed by Jackson Anderson and Nicole Sallee.
Emmanuel Enid head pastor Wade Burleson, whose church the Williamses are longtime members of, will emcee the lighting ceremony.
Burleson said while leading a prayer Monday that if it's God's will, he wishes Enid would become known as "Christmas City, USA."
"But Lord, we will never back down from our Christmas faith," he said. "We will never apologize for the great American traditions of Christmas, and I pray that The One will bring honor and glory to your name, that people will see and hear the good news."
For the last several weeks, city of Enid crews have been reconstructing sidewalks on the 100 block of Park where the tree will be located, while power lines for the tree are being installed in a public easement nearby on South Grand.
City commissioners heard an initial presentation on the downtown tree in late April, during which City Manager Jerald Gilbert said infrastructure costs such as the sidewalks, electric service and leveling the south side of Park would probably come to "a six-figure amount." 
He later said in an email Aug. 2 he anticipates costs would come to around $150,000 or less on infrastructure work for this project to also support other downtown events.
He said that the sidewalk and concrete work, including adding bollards, would cost $97,000; electrical service is about $15,000. He said he didn't know the costs of the receiver well, where the tree will be placed.
The committee leading The One event also will donate 100 6-foot artificial, decorated Christmas trees to Enid families in need, while replanting seedlings to replace the main tree, which will be harvested and donated to a nonprofit after the holiday season.
Williams said after the announcement he'd been fascinated with large Christmas trees around the world and had read many trees were being set up in outlet malls and even casinos — evidence of the commercialization of the holiday celebrating Jesus Christ's birth.
Many of these trees also were too far for people living in middle America to travel to at this time, he said.
"But we commercialize (Christmas) into traditions that may be outside of … (like) Santa Claus, reindeer," Williams said, before quickly adding that he didn't have a problem with Santa's sleigh-pullers.
"In fact, I'm not so sure there won't be a reindeer petting zoo around here somewhere, because they wanted something set up for the younger children."
The modern-day practice of dressing up a fir tree in living rooms with sparkling lights and ornaments started as a tradition to celebrate the Winter Solstice — by European pagans, Egyptians, Celts and Romans alike.
This tradition was then adopted by Christians centuries ago, Williams said.
"Now we don't worship a tree — that's not what we do," he said, noting that the Christ Tree would be installed in a 6- to 8-foot so-called "tomb" in the ground on the street.
"But if you think about it, Jesus rose from the tomb, and the tree is simply a representation, when we look to it, of everlasting life, and the lights on the tree represent the light of the world," Williams said. "So there's a lot of significance in all the things that happen."
Though long popular with Germans, Queen Victoria popularized the Christmas tree in the mid-1800s in Europe before Americans eventually claimed the tradition as their own — President Calvin Coolidge began the nation's first tree-lighting ceremony on the White House lawn in 1923.Around 300 million trees are grown on farms specifically for Christmas trees, while 35 million are sold annually, according to ZME Science.