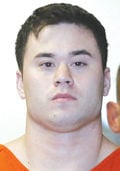 As featured on
Prosecutors said Monday investigators found a 17-year-old girl's DNA inside the uniform pants of an Oklahoma City police officer who is accused of sexually assaulting 13 women during the past year.
Collection of stories about the investigation and arrest of Oklahoma City police officer Dan…
June 17, 1940 - July 5, 2020 Funeral services for Melva Joy Paph will be 10 a.m. July 10, 2020, at the Marshall Funeral Home Chapel with Rev. Ron Pingelton officiating. Interment will be in the Alva Municipal Cemetery under the direction of Marshall Funeral Home of Alva. Melva Joy Paph, daug…
June 11, 1953 - June 12, 2020 Clarence L. Messenger, 67, of Bismark, Ark., was born to Arthur and Virginia (Babcock) Messenger on June 11, 1953, in Enid, Okla. Clarence went to be with his Lord and Savior on June 12, 2020. He is survived by Anita, his wife of 46 years, sons Justin and Nicole…
ENID - Mass of Christian burial for Dale Phillips is 10 a.m. Friday, July 10, at St. Gregory's Catholic Church. Burial will follow in St. Michael's Cemetery. Rosary is 7 p.m. Thursday in Henninger-Hinson Chapel.
ENID - Services for Christian "Seth" Floyd, 29, Enid, are 10:00 a.m. Wednesday, July 8, 2020, at North Garland Church of Christ. Visitation is 6:00-8:00 p.m. Tuesday, July 7th, at Ladusau-Evans Funeral Home. Condolences to www.ladusauevans.com.
ENID - Celebration of Life service for Trey Gladden, 35, will be at 2 p.m. Thursday, July 9, 2020, in Emmanuel Enid. Burial follows in Memorial Park Cemetery. Visitation 6-7:30 p.m. Wednesday at Anderson-Burris Funeral Home.