SHAWNEE, Okla. — The Enid News & Eagle earned 18 honors — including four first place awards — at the 2018 Oklahoma Press Association Better Newspaper Contest Awards presented Saturday at the Grand Casino Hotel & Resort in Shawnee.
The News & Eagle's Entertainment Editor Joe Malan and News Editor David Christy won a team first place award for Layout & Design.
"Sometimes the team's willingness to take risks ends up looking great," judges wrote. "The 'On ice' front page is great."
Columnist Dave Ruthenberg won first place in Column Writing for "Oklahoma can't be trusted with the death penalty," "A vet's desperate tweet mobilized thousands" and "In defense of masculinity."
"Columnist Dave Ruthenberg blew me away with his consistency and ability to make me care about his subjects, especially the missing homeless vet," judges wrote. "He can tell a tale, and his examination of Oklahoma's death row bungles was exacting and on point."
Sports Writer Tim Godfrey won First Place for "Accounted for: Father figures help Gray brothers after their dad's death."
"The structure of this story is fantastic," judges wrote. "Great storytelling."
Candy Cane Cash won first place in the Sales Promotion advertising category for using the newspaper and its digital services as the core promotional force. Shoppers at participating Enid merchants were given tickets and a chance at $15,000 in cash to be handed out just before Christmas.
"Sweet promotion," judges wrote. "The staff clearly is willing to put a twist on the 'shop local' type of promotion."
The News & Eagle also received the following team honors:
• Second place for Digital Media for www.enidnews.com.
• Second place for Community Leadership with the "Trusting News" project.
• Second place for Sports Coverage.
• Second place for Photography.
• Third place for News Content.
• Third place for Advertising.
• Third place for Editorial Writing for "Public needs assurance of proper jail procedures with emerging allegations," "A free press is not the 'enemy of the people'" and "Fourth Estate is not a lapdog or rabid dog, but a watchdog."
Individuals earned the following accolades:
• CNHI State Reporter Janelle Stecklein placed second for teacher walkout coverage.
• Joe Malan placed second in Front Page Design with "On ice."
• Columnist Jeff Mullin earned second in Column Writing for "Life is not fair, but it is fairer than death," "He said, she said: It's déjà vu all over again" and "Common sense got run over by a holiday song."
• Staff Writer James Neal earned third place in In-depth Reporting for "60th anniversary of Enid sit-in segregation protests."
• Staff Writer Cass Rains earned third place for his "Jail death details emerge" News Story.
• Photographer Bonnie Vculek placed third in Feature Photograph with "Mud volleyball."
• Chief Photographer Billy Hefton placed third for Sports Photograph with "Seiling girls win Class A title."
The News & Eagle competed in the largest category of daily newspapers in the statewide contest, which was judged by the New Mexico Press Association.
Quarter Century Club
Enid News & Eagle Digital News Coordinator Violet Hassler was inducted in the OPA's Quarter Century Club at a Saturday luncheon in Shawnee.
Hassler began her career in journalism at the McAlester News Capital and Democrat in 1991.
She grew up in Braman, where she attended school, and graduated from Northwestern Oklahoma State University, Alva, in May 1991 with a bachelor's degree in mass communications. She worked three years at the Northwestern News college newspaper and KNSU college radio station.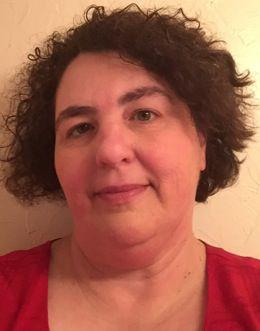 She was city reporter for the McAlester newspaper for almost two years before taking a position as education reporter with the Enid newspaper June 1, 1993. She later worked as business reporter and then moved to the desk as a copy editor.
She was named news editor in charge of the copy desk in 1999, a position she held until 2008, when she was named special projects coordinator and then digital news communications coordinator.
She and her husband, Kevin, have two sons, Jacob, 12, and Judah, 9, and the family lives in Enid with their two dogs, Jack and Ella, and horse Piper.