ENID, Okla. —A day of cuisine, music and dancing largely showcased cultures of people from Latin America and the Pacific Islands living in Enid as the citywide community cultural celebration returned after a year off due to COVID.
"It starts off with a day, and who knows, maybe a weekend," the community cultural celebration's emcee, Joseph Beserra, said early into Saturday's festivities at Government Springs Park.
In the park's gazebo behind him, musicians from the Oklahoma mariachi band Orgullo de América sang in Spanish, blasted their brass and strummed their guitars and violins, the first entertainment of the afternoon.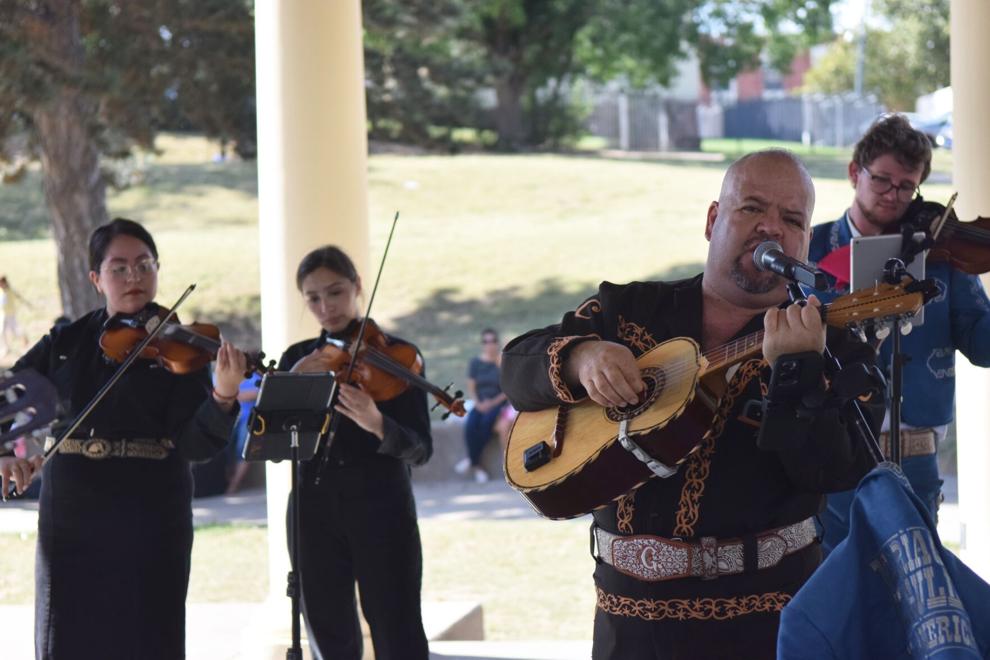 "It's gonna be a big party, once it gets cracking," Beserra said.
Since moving to Enid from Southern California, Beserra, who is Mexican, said he's learned even how some kinds of Mexican food he grew up with are cooked differently in the Midwest.
He said he really liked that events like Saturday's helped broaden perspectives of people in Enid.
"Different cultures don't know certain things about the Hispanic community or the Marshallese community or the Black community," he said. "I am oblivious to my own culture sometimes. It opens my eyes, too."
Dozens of teenaged and adult dancers from a school in Oklahoma City, the Norahua Amigos of Oklahoma, would later take the stage in traditional costume to showcase folk dances from some of Mexico's 32 states.
Amanda Kemem's two daughters, Ohana and Jaiida, then performed Hawaiian dances to represent cultures from the Pacific Islands on Saturday.
Kemem, who is Marshallese and Japanese, said she enjoyed the event showing the multicultural aspect of Enid that sometimes goes unnoticed in the community.
"There's a blend of everything that's going around in Enid," she said. "It lets people know that we are here, and … there is a good side to Island culture. We can bring an impact."
Of the 42 vendors expected for the event, 22 showed up to the park Saturday, said Kim Haley with the Parks and Recreation Department.
Tony Barnes and his wife, Hilda Vazquez, were selling pan dulce (sweet bread) baked that morning by bakers in Enid, as well as handmade belts.
Barnes had also volunteered to bring in food vendors and recruit the mariachi and norteño music bands and dancers, all in order to represent the nation's various cultures.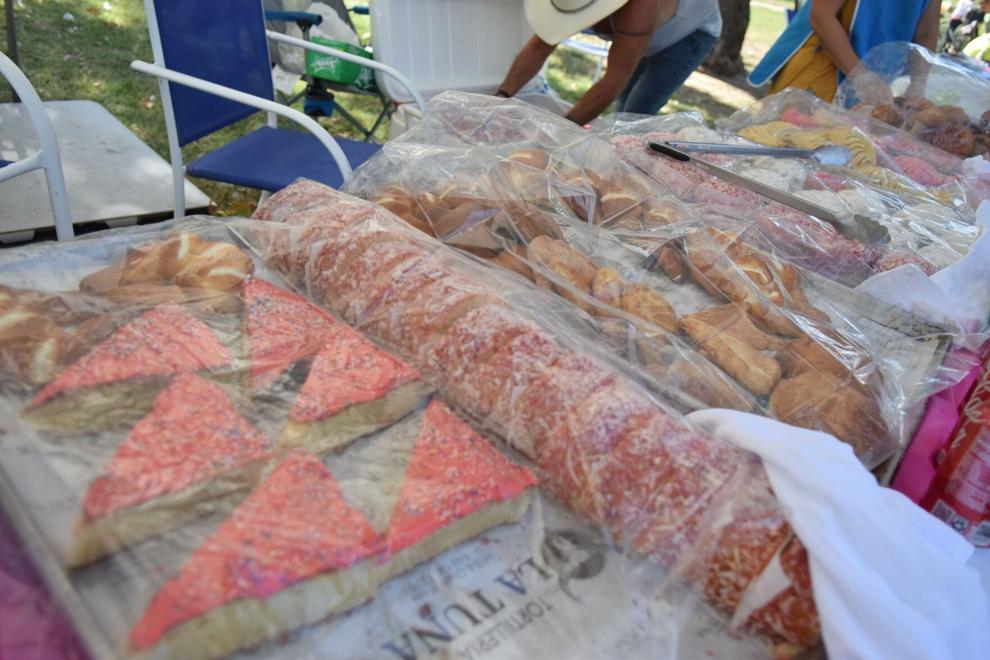 The Enid native said he fell in love with Mexico and its culture of dancing, food and music while serving there as a missionary for 20 years. His wife moved to Enid from a small town in Jalisco, Mexico, six years ago.
"I really wanted more Americans to be here," he said Saturday. "We eat their food, but we never see the beauty of Mexico."
In Oklahoma City and the rest of the state, he said, everyone celebrates Cinco de Mayo and Sept. 16, the latter of which to commemorate Mexican independence.
Saturday's event also fell in the middle of the nation's Hispanic Heritage Month, which runs from Sept. 15 to Oct. 15 and celebrates the achievements and contributions of Hispanic Americans to the United States.
Barnes said Enid, which he called the "star of Northwest Oklahoma," has still never had a single major day celebrating Hispanic people and their cultures.
"It's time we start celebrating," he said. "Hopefully, it'll get bigger every year."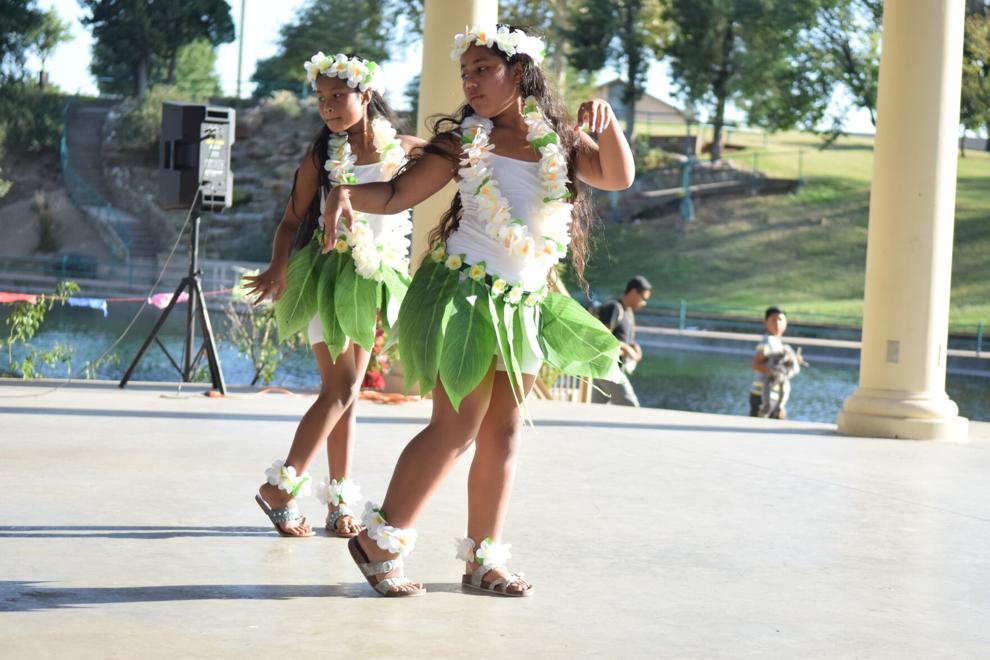 Saturday's cultural event returned in the wake of recent news about Enid and Garfield County's changing population diversity in racial or ethnic backgrounds.
The Hispanic/Latino and Pacific Island communities whose cultures were most represented Saturday also reported the most significant growths of racial/ethnic groups in the newest census.
Along with Oklahoma, and the rest of the United States, Garfield County is becoming much more diverse than it was even 10 years ago, according to the 2020 U.S. Census.
Garfield County's overall diversity index — which the census uses to measure the chance that any two people chosen at random will be from different racial ethnic groups — saw a massive jump in the last decade, going from 34.2% in 2010 to 50.5% in 2020.
Residents who speak Spanish and/or have heritage from Latin American countries still make up the second-largest racial/ethnic group in Garfield County, but that number has nearly doubled in the last 10 years, from 5,353 to 8,982 people.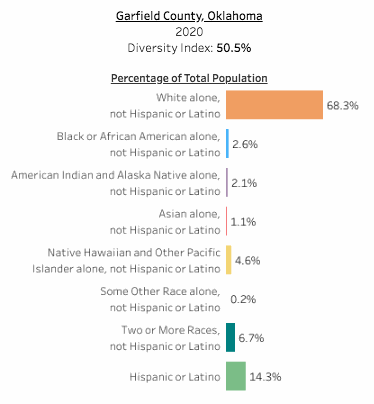 Pacific Islanders such as people from the Marshall Islands also experienced an even larger reported increase — tripling from 1,094 people 10 years ago to 2,920 now, at 4.6% of the county.
Meanwhile, the number of Garfield County residents reporting as white alone, not Hispanic or Latino, dropped 12 percentage points between 2010 and 2020, now making up 68% of the county's nearly 63,000 people.
Trent Misak, who led Garfield County's complete count committee aiding the community in completing the 2020 census, said this time, the group specifically targeted areas in the 73701 ZIP code to reach areas where more minority populations live.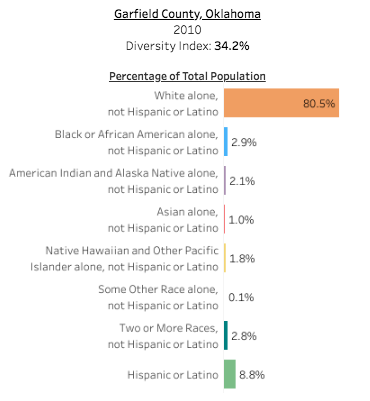 "I think it shows (Garfield County) is a welcoming community to any group. The results show it, and you don't see it often," Misak said.
Though it sits in the bottom half of Oklahoma counties reporting a diverse population — ranking 45th out of 77 in its index — Garfield reported one of the top five increases in diversity nationwide from 2010 to 2020, Misak said after a New York Times reporter called him in August to report on the change.
"To be nationwide, you wouldn't expect that — to see a lot of diversity growth — in rural Oklahoma," he said. "I would've expected to see that somewhere more New York, California."
Misak added that he believes a main reason for increase in diversity was more people responded as having multi-racial heritage — a new option in the 2020 census — rather than as white or another race alone in the past.
Twice as many county residents in the last decade responded as being from two or more races, going from 1,705 in 2010 to 4,202 in 2020.
Misak said two-thirds of Garfield County residents self-responded to the census, while enumerators then filled reporting to a 99% response rate, through conversations with neighbors, for example.
He added that the census was also online for the first time ever.
"We tried as many avenues to reach people as possible," he said.
Census takers also tried to debunk untrue myths about the census like reporting immigration status or occupancy limits to government officials, while the complete count group included members of minority communities to reach previously underreported populations.
These members included Terry Mote, who is beginning a series at the Enid library next week on the history and culture of the Marshall Islands. Mote said the 2020 census was translated to Marshallese and all other Micronesian languages — among several changes from 2010's census process, which he said had no involvement from the Marshallese communities in Oklahoma.
Having lived in the United States since Marshallese residents immigrated to the United States — and specifically to Enid — under the county's Compact of Free Association with Micronesian states, Kemem grew up around both American and Marshallese cultures.
She said she believed the Marshallese community had long been ignored in Enid due to a lack of past reporting and lack of involvement.
"I think the good thing about it is, even though Marshallese act shy and quiet, they're really respectful and they're very giving. … That's what we were taught, was to give," she said. "The barrier between language, the barrier between the culture, they don't know where to start to help sometimes."
However, Kemem said she hoped things would start turning around with the new census data, as well as Medicaid and other benefits having finally been granted to COFA citizens living in the U.S.
"We've been here for a while, but we're just finally starting to come out of our shell," she said.