ENID, Okla. — Construction is set to start Monday, Nov. 12, 2018, weather permitting, for "Under Her Wing was the Universe."
Activity on the downtown artwork, located south of the Central National Bank Center, comes after recent delivery of the structure's steel to the site and the approval of surfacing for the project.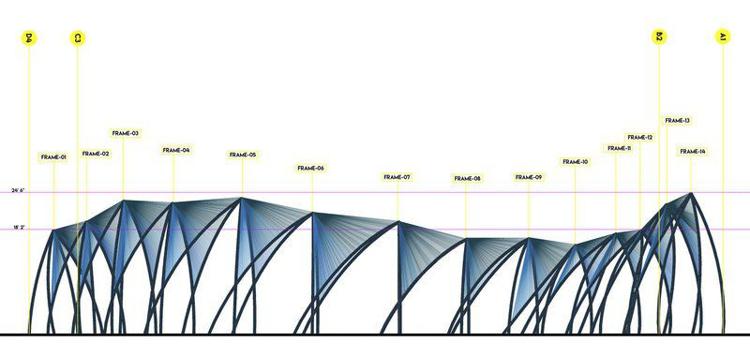 Project features and completion 
After running into a number of obstacles with the surfacing for "Under Her Wing was the Universe" — including price and material determined to be too flammable — project artist Romy Owens settled on a 3/8-inch galvanized, vinyl-coated steel cable that will be printed in custom colors in a spectrum from a dark blue to a medium blue. 
Owens presented the surfacing during an update on the project to Enid city commissioners in a study session Tuesday, Nov. 6, 2018. The new material has been approved by the fire marshal, she said. 
The steel surfacing will be installed as "string art" in a sense with more than 4,000 connection points, she said. Michael Shuck is the project's architect and Jessica Nelson is the project manager. 
"In most of the original renderings there was a complete coverage for (the project). Given the challenges that we've had with trying to find the material that creates the surface, this seems the most artistic and authentic way to create design and interest without it becoming so linear that if feels like bars," Owens said. 
As for the steel framework for the project that was recently delivered, it came primed in a rustic color with plans for professional painters to spray the steel in a dark shade of blue to complement the steel cable.
"The frame has not changed, the path has not changed, the plantings have not changed. The seeding, all of the other considerations have not. It has only been this one surface design decision that has gone through the different iterations," Owens said.  
There will be 14 "towers" that each will be independent welded structures interlocked together with the steel cable connecting and creating stability. The starlights will fit underneath the surfacing with their own cabled system of lights with individual bulbs controlled to be star points, Owens said. In total, she said, there will be about 47 strands of lights making up about 1,000 "stars" overhead. 
Underneath the structure, an ADA concrete walkway will be constructed with some benching. The steel beams for the artwork will have concrete footings four feet deep, wide and long. Entry lights will mark entry points to the walkway, and the entirety of the path will feature ADA compatible lighting aiming down to illuminate the path, Owens said.  
There's also a plan to plant at least 10 to 20 Oklahoma-native Redbud and Chinese pistache trees, Owens said, along with tall grasses, native grasses and wildflowers. The city's Parks and Recreation department will take over maintenance of the prairie-like surroundings.  
"It is fully within our plan to finish (the structure) by the end of the year. Weather at this point is our biggest obstacle," Owens said. "We anticipate a very wet and very cold winter. I'm hoping that will hold off until January, but our anticipated date is still to complete by the end of the year."
However, the project in its entirety won't be completed until at least spring, when the landscaping portion of the project can be planted and grown. 
Funding
When commissioners asked Owens during the study session if she had enough money to complete the project, Owens said she's still short of the fundraising goal. According to the project's GoFundMe page, $185,977 of $232,500 has been raised.
However, Owens said she's confident the rest of the money will be raised in time. 
"I've been talking at great length with I would say two dozen advisers in terms of the fundraising who all agree as I do that once steel goes up, people will have a better sense of what it is they're supporting," Owens said. "At this point people have been donating on faith that this will happen. And I think once we do break ground and we've got steel in the air and people can see how large this is and what it is and that it's not such an abstract idea. I'm fully confident the final results will come in." 
She added she has several corporations interested in joining the project with a "very large donation" and naming rights, but they're waiting to see work started. 
Owens said in an interview after the meeting that if an organization were to get naming rights, the name of the project wouldn't change, but they would be a title sponsor and along with that have more prominence on the project's signage.
According to the project's GoFundMe page there have so far been 602 total donors including four international donors, 97 donors from outside Oklahoma in 26 states and Washington, D.C., and 501 donors from 44 municipalities in Oklahoma. 
Opposing opinions
After naming rights were mentioned during the meeting, several commissioners broke into what turned into a heated exchange amongst themselves about the project's naming rights, funding, delays and timetables. 
"You've got two months in order to be able to complete the project and have got to pull $50,000 in that time frame. And that, at the same time, while not exceeding the budget anymore than what it's already done," Ward 4 Commissioner Jonathan Waddell said. "Our hope I guess is that it's going to stay at that level ($232,500) ... and we haven't even busted ground yet." 
Ward 5 Commissioner Tammy Wilson told Waddell the amount the city is paying hasn't changed and the art project will become property of the city after completion. 
"Jonathan, you're being awfully harsh here. We have an artist who is putting a lot of effort, has raised a boatload of money, to put in a huge piece of public art that's going to benefit the city of Enid," Ward 3 Commissioner Ben Ezzell said. "I understand your enthusiasm level is visibly low, but she has come a long way and made incredible, incredible effort to come this far ... I understand it's not perfect and it's not on the timetable everybody would have liked, but can we encourage our artist here a little bit?"
Waddell, Wilson and Ezzell continued to go back and forth about the project, with Ezzell asking what Waddell's problem was and saying many of the city's projects don't come in on time. 
"We're not going to make the timeframe in which it is. We know it's going to bust," Waddell said. "Contractually at this particular point, that means we're going to have to sit and we're going to have to come to some sort of agreement that we're OK with continuing to proceed beyond the point in time in which we agreed upon. Mind you, that is somewhere around 17 to 18 months beyond the timeframe we (originally) talked about."
Ezzell said it's not a "cookie cutter" project, and there have been a number of delays from various sources through no fault of Owens, which Waddell did not dispute. Waddell said all he's trying to do is ask the "hard questions," and he gets questions from his constituents about the project regularly. After Ezzell said Waddell was coming off as combative, Waddell apologized to Owens and said it wasn't his intent. 
Similar back-and-forth was had between the commissioners for some time with multiple interruptions, including talk about the Kaw Lake project and the downtown hotel likely also facing delays, causing Mayor Bill Shewey to intervene.
"Hey, one of you at a time, for crying out loud," Shewey said.
Ezzell and Wilson said comments should be able to be made "without being mean." Shewey said everyone had a right to their concerns, and Waddell challenged Ezzell to tell him when at any point in the conversation he demeaned or disrespected Owens. 
"The fact that I can raise a concern that the timeframe has been busted and asking for explanations or at least projections in terms of what time it's going to be completed, if you find that as disrespect, I just, Ben, come on," Waddell said. "My intent is to get hard answers to hard questions."
After the heated discussion came to a close with Ezzell talking about the project making good progress and praising the art, Ward 6 Commissioner George Pankonin voiced agreement with Waddell. Pankonin added he's gotten more calls in the last year and a half about the project than anything else.
Near the end of the meeting Ward 1 Commissioner Ron Janzen, who in July 2017 voted against the project and said he thought it looked like a quonset hut, had praise for the updated look of the art. 
"As I look at what you're showing us here this evening, this looks entirely different than what you presented to us almost 18 months ago and actually I like this," Janzen said. "I mean this is colorful ... this actually looks like an art project. I don't think we'll have to explain to people what this is if they come by and look at it." 
Final comments
"I'm genuinely sorry this is taking so long. Nobody is more sorry this is taking so long than I am," Owens said. "While I do 100 percent respect the fact you all face scrutiny from your constituents ... it is my reputation that will be most damaged if this is not completed."
She also said the delays and pivots haven't been easy.
"The timeline, the adjustments that have had to been made, they're not easy. They're disappointing every time. I'm doing the absolute most due diligence that I can to keep moving forward ... I know that it will be (over soon) and I'm still optimistic it will be beautiful and an asset," Owens said. 
Owens rounded out her presentation talking about the tough conversations the city of Enid has had and the much larger projects the city undertakes that are important.
"This is just in the big picture of things, a small art project," Owens said. "But it's the first of its kind in Enid, and people are paying attention, and I'm glad for that." 
Commissioners requested to have the project on the agenda again in January. 
For information on the project,go to www.romyowens.com, www.gofundme.com/under-her-wing-was-the-universe or the project's Facebook page at "Under Her Wing was the Universe."